The Cross & the Pen: Author Martha Bolton
Eva Marie Everson, Contributing Writer
Monday, November 22, 2004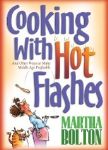 Welcome to "The Cross & the Pen," Crosswalk.com's author-to-author interview column!
Ask anyone who knows me and knows me well and they'll tell you how much I love a good comedy. Which means, of course, that I'm pretty crazy about comedians. And, boy, have I met one!
Several years ago I had the pleasure of meeting Martha Bolton ("Cooking with Hot Flashes" Bethany House Publishers, 2004). Recently, when I saw the title of her new book, I contacted her and said, "Girl, please! Send me a copy and send it now!" This is one humor book I can certainly relate to. After all, wasn't it just a couple of weeks ago, as I stood in the cool terminal of the airport, awaiting my luggage at baggage claim, that I suddenly broke out in a sweat and – within a matter of seconds – was drenched as though I'd been in a rain storm? Wasn't it earlier just that morning that I paused in the plucking of my eyebrows to yank at a few strays poking out of my chin? Hadn't I, while sitting on the airplane, complained to my seatmate about the ache in my hip?
Well, Martha sent the book, I read (no howled through) it, and then we got together for a little chitchat. Wanna listen in?
Eva Marie:  Martha, I loved your book, "Cooking with Hot Flashes"! Laughed until I embarrassed myself (this was when I was in the doctor's office for the second time in a week, naturally). But, before we get into the book and the agony and angst of growing older, will you tell our readers a bit more about yourself?
Martha:  Well, I used to be a church secretary before becoming a professional writer. I used to "roast" the pastor, Sunday school superintendent, church treasurer, or whoever was having a birthday, anniversary or other special event. I would tell jokes about them like a Friar's Club roasts. I had to keep changing churches a lot.
Eva Marie:  Ah, but I happen to know that you used to work for someone pretty famous – let's say someone who gave the world a whole lot of laughter.
Martha: I was a staff writer for Bob Hope for fifteen years. Not only was he a comedy legend, but also he was a very nice man. There will never be another one like him. He is missed by so many.
Eva Marie:  And? (Don't hold out now ... )
Martha:  Okay, okay. One of the first comedians I ever wrote for was Phyllis Diller. She has always been so encouraging. I also wrote for Wayne Newton's USO show, and have written for Ann Jillian, Kathy Troccoli, Jeff Allen, and Mark Lowry. Writing for comedians keeps me out of the kitchen, which is my public service.
Eva Marie:  Oh, the sacrifices you've made, Martha! We are all indebted. (Laughing) I would have to say, then, that humor is something like your middle name. It's no wonder then that you've written such a funny book about what many find to be an unfunny time. Was that your hope, though? To help us, more or less, laugh at ourselves?
Martha:  Laughter is a survival tool. When you look in the mirror and realize you're starting to grow your own turtleneck, what else can you do but laugh
Eva Marie:  Let's talk about some of the chapters. Do you have a favorite?
Martha:  I think I especially like "Take Our Money ... Please." It's a chapter about how the marketing people are forgetting a large portion of the spending public – the middle-ager. I also like the "Suggested Movies" and "Broadway Plays" for middle-agers. Movies like "Hey, Dude, Where's My Teeth?", "Gangs of Palm Beach," and "Catch You If I Can."
Have something to say about this article? Leave your comment via Facebook below!
advertise with us
Example: "Gen 1:1" "John 3" "Moses" "trust"
Advanced Search
Listen to Your Favorite Pastors