The Cross & the Pen: Author Ray Blackston
Eva Marie Everson, Contributing Writer
Monday, May 09, 2005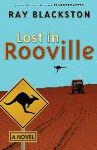 Eva Marie:  Do you know of any other "lad lit" writers, or did you know before you wrote "Flabbergasted"?
Ray:  Nope. Did not know anyone writing such stories. In fact, I went browsing through a Christian bookstore to see if anyone had written a novel about a guy who wanders into church just to meet girls. When I could not find such a book, I asked God if it was okay if I wrote it, as long He got the glory. So, I did (and He does).
Eva Marie: Amen to that! Since then, have you met any other lad lit writers?
Ray:  No, I think I set the bar so high that they all gave up. Ha! You know I'm kidding; I don't believe that for a second. The real reason is that men are not as in touch with their feelings as women, so very few have attempted to write about singleness in a manner that would show vulnerability. And women readers, of course, want to read about such vulnerabilities. Someone else will come along and do it though. Maybe they have already and I just don't know it.
Eva Marie:  (laughing) All the women who read this will be nodding at your last statement! How'd you get the idea for "A Delirious Summer"?
Ray:  I wanted to make the minor characters (especially two single women, Darcy and Alexis) come alive in a second novel. And to do this I needed another "fish out of water," to come to town and stir things up. Thus, I used Jay to tell Neil (on Jay's last day at language school) that he should use his furlough to come to South Carolina because "they have great beach trips there, and that lots of single women are in that town." So, Neil bit. And the rest is well, pretty zany. But I always have a serious theme behind the humor.
Eva Marie:  And then, "Lost in Rooville"! How'd you come up with that one?
Ray:  There is a hint at Australia in "Flabbergasted." Two of the single women mention it briefly. And so Jay and his buddy Steve plan the trip, and take their girlfriends over there, while Jay does not tell anyone he has packed a ring. I went to the outback with two buddies in the fall of '04. Hired a guide, went hiking, camped under stars, chased wild camels in an old Landcruiser. We have some great pictures. Quite a "research trip" ... I love my job!
Eva Marie:  I've always wanted to go there! I know I've seen you at various writer's conferences, at trade shows, etc. And I know you talk to a lot of people. Do you find that both men and women enjoy your books equally?
Ray:  Yes, I think that men enjoy them as much as women, although women usually give men the book. (Sisters, girlfriends, wives, mothers). I have about 800 reader emails, and about 80 percent are from women. But most of them say they are passing the novel on to some male. (Plus I think males are less likely to e-mail an author).
Eva Marie:  So what are you doing next?
Ray:  Well, "Rooville" will complete the, um, "'Flabbergasted' trilogy." I'm working on something mega-zany, and I hope it will be fresh and funny and original. As for lad lit, if someone writes it "real," shows some depth of character, some unique situations, and some real challenges, then I think the book market will embrace any number of lad lit titles. But originality is key, and humor doesn't hurt either.
Eva Marie:  Thanks, Ray! It was good to talk to you … and to see you recently!
Ray:  Blessings to your writing, Eva.
Eva Marie:  Yours, too!
Ray Blackston worked as a buyer and a broker for 11 years before cashing in his modest 401k and leaving his corporate cubicle to write full time. He serves on the missions committee of Grace Church, has traveled to rural Ecuador on a summer missions program, and coaches his nephew's T-ball team. The author of the popular summer hits "Flabbergasted" and "A Delirious Summer," Ray lives in Greenville, South Carolina.
 


Award-winning national speaker, Eva Marie Everson is a recent graduate of Andersonville Theological Seminary. Her work includes "Intimate Moments with God" and "Intimate Encounters with God" (Cook). She is the author of "Shadow of Dreams"," Summon the Shadows" and "Shadow of Light." (Barbour Fiction) She can be contacted for comments or for speaking engagement bookings at    www.evamarieeverson.com.   
 
Have something to say about this article? Leave your comment via Facebook below!
advertise with us
Example: "Gen 1:1" "John 3" "Moses" "trust"
Advanced Search
Listen to Your Favorite Pastors