The Cross & the Pen: Author Robin Chaddock & "Mom Overboard"
Eva Marie Everson, Contributing Writer
Tuesday, April 27, 2004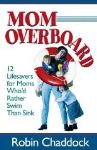 Welcome to "The Cross & the Pen," Crosswalk.com's author-to-author interview column!
Robin Chaddock is one of the very first people I ever met as I entered the world of writing and speaking ministry. She's funny and warm and very smart, and when I heard she'd written a book about motherhood survival ("Mom Overboard: 12 Lifesavers for Moms Who'd Rather Swim Than Sink"; Harvest House 2004) I just knew we had to talk! And so we did. Wanna listen in?
Eva:  Robin, you're a wife and a mother. Tell us a little about your family.
Robin:  I would love to.  I've been married for nearly 20 years to David, who I still like very much after all this time. We've done a lot together including producing two children, Madison who is currently 12 and in the 6th grade and Grant who is currently 8 and in 2nd grade. Just short of having a white picket fence, we're pretty typical including the dog and cat. David is a marriage and family therapist. The kids are fully alive and interesting in their own distinct things.
Eva:  Why did you want to write your book, "Mom Overboard"? What was the defining moment when you said to yourself, "This really should be a book!"
Robin:  When I realized I wasn't alone in my feeling of being overscheduled and under-rested! I knew it had to be a book when I pondered Jesus' assertion that he came that I have abundant life, and I didn't feel my life was abundant at all. Just too much to do, not enough sense of worth, and a feeling that I was drowning in all of the choices, comparisons, and competition. I figured Jesus wouldn't say what he said unless there really was a way for this to be true. That's when I started pondering the lifesavers that God must have put in my life and that I was simply ignoring or missing. 
Eva:  So, let's talk about the book. In the second part of the three-parter you maintain that God has a unique plan for moms. I know sometimes — especially when children are small — we mothers get the sense that we are only so-and-so's wife or so-and-so's mother. And while that is all well and good (and a blessing!), we want to know where we stand in God's equation. What is the "divine assignment?"
Robin:  Well, you are exactly right about so much of our sense of self-coming in relation to who we are to others. And you're also right that this isn't a bad thing, unless it's the only sense of self we have. The "divine assignment" is the answer to Paul's strong suggestion to the Galatians in Eugene Peterson's translation:  "Make a careful exploration of who you are and the work you've been given to do. Then sink yourself into it." The divine assignment is a very powerful combination of your central passion and your greatest strength. My divine assignment is to Stimulate Wholeness. The power of knowing and living this is the realization that I am unique and necessary. I can also live my divine assignment no matter who I'm with or what situation I find myself in.
Eva:  You give 12 "Lifesavers." First, what is a lifesaver … besides the little round candy?
Robin:  You crack me up! A Lifesaver is a natural gift from God, sent into this world to heal us and help us keep perspective.
Eva:  Let's talk about just a couple. One of my favorites … the self-care lifesaver. Do you think moms typically ignore their own needs?
Have something to say about this article? Leave your comment via Facebook below!
advertise with us
Example: "Gen 1:1" "John 3" "Moses" "trust"
Advanced Search
Listen to Your Favorite Pastors