The Cross & the Pen: Author Steve Barclift
Eva Marie Everson, Contributing Writer
Monday, March 28, 2005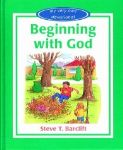 Welcome to The Cross & The Pen, Crosswalk.com's author-to-author interview!
Wanna know why I love ice cream parlors? 'Cause I meet such great people at them! I mean, only the nicest people hang out at ice cream parlors, right?
A year and a half ago, while working as faculty at a writer's conference, I met editor Steve Barclift. One evening, when a few of us "went out" for ice cream, the two of us ended up sitting "shoulder to shoulder." We chatted about this and that and I discovered this was really one very nice guy! And (wait till you hear this!) he writes books! For children!
Months later, Steve sent his children's devotional, "Beginning with God" (Kregel Publishers), for my granddaughter. Together she and I read the pages. I noticed how quickly she became involved in the lives of the "Kenton Family" and how easily she was able to relate to their godly methods of problem solving.
So, I called up my new friend Steve and said, "Let's talk about this book." He agreed … wanna listen in?

Eva Marie:  Steve, obviously the first question I want to ask you about is what made you want to write a children's devotional in the first place.  Talk to me about that. ...

Steve:  In the first place, I have to confess having been really put off by family devotional times when I was a kid. My father was a pastor, and, despite Dad's well-intentioned efforts, what I remember most about our family devotions is that they were dry and boring. My siblings and I dreaded them.
Later, when I married and became a parent myself, my wife, Jann, and I were as frustrated as the other Christian parents we knew, by the lack of good devotional materials available. We wanted to help our kids grow to love and obey the Lord, but for the most part, the tools for helping us in this all important task were the same ones used by my own parents with my siblings and me. Not much had changed over the years.
Eventually, God gave me an opportunity to do something about the problem. I was an editor for a Christian book publisher on the West Coast in the early '90s when my employer suggested that I consider writing a children's devotional. My own children ranged in age from three to eight years at the time, and as I mentioned, my wife and I had already found that there were few devotional resources available for kids. And I knew that other parents were having the same difficulty because, prior to that time, I had been the founding managing editor of Christian Parenting Today magazine – our readers were constantly telling us that they couldn't find devotional materials that their children would stick with. So, I took up the challenge and began writing, bouncing ideas off of the first- and second-graders in the Sunday school class my wife and I were teaching.
That book, "The Beginner's Devotional," was published in 1991. It became a best seller and won an ECPA Gold Medallion Award. "Beginning with God," my new devotional, which was recently released by Kregel Publications, is an updated version of my first devotional and features new and much better four-color art throughout, many new contemporary stories, and a host of other changes that make it a book that will resonate with kids today.
Eva Marie:  What did you envision when you wrote it?  Did you think family time every evening?  What was your goal, or your prayer, for the book?
Steve:  My intent was to provide kids, both my own and others who read the book, enough information about God and enough structure that they would begin to grow in their spiritual lives. I wanted them to come to understand the importance of developing a relationship with God and to know that, as difficult as life can be, God has provided a clear map – the Bible – that will help them at every point along life's journey. Kids need to know that for any decision they will ever need to make, they can find guidance in God's Word, and that the Holy Spirit will help them to understand and apply the rich truths of the Bible to their lives. In an age of international terrorism, war, pornography, and turmoil of every sort, our children can find stability and security and hope for the future in the Lord. The devotional is intended to help acquaint them with the God of the Bible.
Have something to say about this article? Leave your comment via Facebook below!
advertise with us
Example: "Gen 1:1" "John 3" "Moses" "trust"
Advanced Search
Listen to Your Favorite Pastors