The Cross & the Pen: Author Virelle Kidder
Eva Marie Everson, Contributing Writer
Monday, April 19, 2004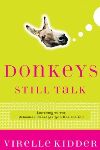 Welcome to "The Cross & the Pen," Crosswalk.com's author-to-author interview column!

I first "met" Virelle Kidder on the air. She was a radio talk show host in Albany, New York and I was an author/interviewee. I immediately warmed to her friendly voice and entertaining banter. This woman, I determined, was a true, FUN woman of God! Two years went by, more interviews, until one afternoon when I received an impassioned phone request. "Eva, I know you are about to go to Israel. Would you talk about this with my listeners? We want to know why you would go now? During the 'Middle East Crisis?'"
I said I would. About an hour later, Virelle called back, we conducted the phone interview and – during a commercial break – she said, "Oh, Eva! I want to go, too!"
Because I was going to Israel as a journalist … and because Virelle is a journalist, too, I gave her the contact information for attaining more information. The following day, Virelle called again and said, "Eva?? I'M GOING!"
What a JOY to share the Holy Land with Virelle! We became FAST friends … sisters in the Lord … and we continue to enjoy time together. Recently, I talked with Virelle about her new book, "Donkeys Still Talk" (NavPress). Wanna listen in?
Eva:  Virelle, what scripture inspired your book, "Donkey's Still Talk"?
Virelle:  Actually, my "aha!" moment came while reading Numbers, chapter 22, the story of the questionable prophet Balaam and his wonderful donkey who God blessed with a voice at just the right moment. I was also "up against the wall" like Balaam, unable to move my problem donkey, which at the time happened to be Bell's Palsy. Like many difficult and frustrating circumstances in life that we can't change no matter how hard we try, the "donkeys" God allows often how up right when we need to hear Him speak to us more than anything else. What He says will be life changing. Unfortunately, we can be as dumb as Balaam and beat our donkey in  many "spiritual" ways, like calling up every prayer chain in America, claiming verses over it, and wearing a face like a forgotten child. "Donkeys Still Talk" is about hearing God's voice even when we're not listening. God knows how to get our attention.
Eva:  When you and I traveled to Israel together I overheard you in the van seat behind me, telling our friend Dana your testimony. I get a sense that this was, in fact, the inspirational event for your book. Am I right?
Virelle:  Riding in that van around Israel with our host, Dana, and guide, Miriam, as well as you and our friends was one of the great highlights of my Christian life. Walking on the same paths that Jesus did, seeing the city God calls His homeland, was unforgettable. I'd go again in a heartbeat. But this book, quite honestly, was born in my heart over the longer stretch of years, now almost 35, that I have sought to follow Jesus, often balking rather badly myself. It's my fourth book and by far the most personal and difficult to write. In the same sense, it's a little love gift to others on the same path seeking to know Jesus better. I hope it will encourage others to see God's hand on every inch of their life, to listen for His Voice, and to know beyond a doubt that His love for them exceeds their wildest dreams.
Eva:  You write: "Sometimes when God speaks, He gives us nothing we ask for and everything we need."
Virelle:  I remember in particular a "conversation" I had with God in front of the bathroom mirror the first morning that I had Bell's Palsy. Being a full time writer and conference speaker, it's a fair guess when God paralyzes half your face that He wants your attention. That much I knew. I can't tell you I heard an audible voice, but I was certain He was speaking to me lovingly and directly when He asked, "Virelle, I was wondering, will you still praise Me with only half a mouth?" It wasn't what I wanted to hear at all. How could I waffle on that when others serve Him all around the world in the midst of great suffering? I whispered, "Yes, Lord."
Have something to say about this article? Leave your comment via Facebook below!
advertise with us
Example: "Gen 1:1" "John 3" "Moses" "trust"
Advanced Search
Listen to Your Favorite Pastors