The Cross & the Pen: Heather Gemmen & "Startling Beauty"
Eva Marie Everson, Contributing Writer
Friday, May 28, 2004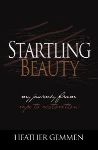 I have often said that two fears hover over every woman. The first is breast or ovarian cancer, though I think we concern ourselves more with the former than the latter. The second is rape. Women stay on guard every day of their lives, whether in our homes, walking to their car, on the job, on a date ... no matter where we go, we are trained to be keenly aware of our surroundings in order to protect ourselves. While being raped anywhere is traumatic, even more so is being raped in your own home. But can you imagine that, as you try to deal with the assault, you learn you are pregnant?

Such was the case of Heather Gemmen, my dear friend and author of "Startling Beauty" (Cook Communications), one of the most powerful books you'll ever pick up. This is not a book, however, that focuses on the rape, but more on the healings that took place inside Heather, her family, and her friends ... ironically from wounds they didn't even know existed. Recently, Heather and I got together and talked about what I consider to be a masterpiece of human emotion and God's divine plan. Wanna listen in?
 
Eva:  Heather, I want to tell you first that while at a writers conference recently I heard several people talking about this book ... how powerful it is and how wonderful you are, not only as its writer but as an editor. So, let's begin by talking about what you "really" do for a living.
Heather:  I am an acquisitions editor for Cook Communications, looking for quality proposals for all of our brands: from children's books to Christian living to fiction. I love my job not only because I get to be around books all day, but with the authors who wrote them. Maybe I like them so much because I'm one myself. If my day job is editing and my night job is playing with my kids, then third shift is writing.
 
Eva:  But, you've had this book for a long time.
Heather:  I have been a writer all my life, though I was not published until about 3 years ago. I started writing "Startling Beauty" long before I ever considered publishing it, but didn't get serious until about nine months before I turned it in to my editor.

Eva:  After reading it, I'm so glad you did! So, let's talk about the book. A very difficult subject matter and I know – because I know you personally – that deciding to actually write it was a difficult decision. How did God confirm that for you?
 
Heather:  The things God calls me to are not always easy, but he always equips me for the job, puts a passion in my heart to do it, and opens a door to make it happen. I wrote "Startling Beauty" because I had met so many women who were keeping silent, and so staying in despair, and I wanted to give them a voice.
 
Eva:  Now the difficult part; you were raped. You gave birth to a biracial child because of that rape. And you chose to keep the child and raise her as much a part of your family as the offspring from you and your husband, Steve. But, in the book, you share that it was so much more than that. You learned things about yourself while you were pregnant. ... Before I get ahead of myself and tell your story (you are such an inspiration, Heather!), let's talk about the decision to keep your child.
Heather:  At first the pregnancy seemed as traumatic as the rape itself. The rape was clinging to me, reshaping me, forcing me to make a decision. And none of the options in front of me worked. Abortion. Adoption. Keeping the baby. I wanted "Door Number Four." After much angst, though, God somehow got through out hardened hearts and caused us to fall in love with the baby. She is now the startling beauty that came from much pain.
Have something to say about this article? Leave your comment via Facebook below!
advertise with us
Example: "Gen 1:1" "John 3" "Moses" "trust"
Advanced Search
Listen to Your Favorite Pastors