The Cross & the Pen: Liz Curtis Higgs
Eva Marie Everson, Contributing Writer
Thursday, March 25, 2004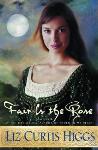 If you've never heard Liz Curtis Higgs speak ... if you've never read any of her articles (she's written more than sixty articles for Today's Christian Woman alone!) ... if you've never been delighted by her wonderful works of nonfiction ... well, you just haven't lived!

But better than all these combined is the joy and delight of speaking to Liz personally. She is just as you'd imagine her to be! So, imagine how excited I was when I had the opportunity to e-mail my good buddy after reading her latest book, "Fair is the Rose" (Waterbrook), her second work of fiction. As two fiction authors we had a good deal to speak about. Wanna listen in?

Eva: Liz, you are, of course, known for your humor and your nonfiction. But I happen to know from speaking with you in the halls of CBA's convention is that your love is fiction. What enabled you to make the writing transition, especially with your fans?

Liz: The women who read my books are exceedingly generous of spirit! They "transitioned" with me from my early, mostly-funny books like "Only Angels Can Wing It" (1995), to my children's fiction like "The Parable of the Lily" (1997), to my fiction/fact/funny Bible studies like "Bad Girls of the Bible" (1999), to my light-hearted contemporary fiction like "Bookends" (2000), to my heartfelt historical fiction like "Thorn in My Heart" (2003) and "Fair is the Rose" (2004). What might look like a leap of faith to some folks felt like a crawl of faith to me! Although the Lord showed me clearly in 1995 that historical fiction was where I was headed, I never dreamed how meandering that path would be. It's a joy unspeakable to finally be settled into one genre.
Eva: Liz, I am sooooo happy for you!! So, let's talk about the latest book! "Fair is the Rose" is the second book in a series. The first was "Thorn in my Heart." What inspired these stories?
Liz: Three things: (1) My love for history and historical fiction (nine out of ten books I read are historical novels); (2) My love for Scotland (I've been there six times for a total of eighty days, covering eight thousand Scottish miles in my rental cars); (3) My love for the women of the Bible. After researching the women I included in "Bad Girls of the Bible" and "Really Bad Girls of the Bible," there were some women who defied category-not exactly "bad girls," but not really "good girls" either. Two in particular, Leah and Rachel, spoke to my heart. I thought, "Wouldn't it be grand to explore their stories, not as a nonfiction study, not as a novel set in biblical times, but as a novel set in a very different time and place: 18th-century Scotland?! "Thorn in My Heart" gives us a fresh look at the character of Leah, and "Fair is the Rose" tells Rachel's story. Though some of the details of these stories must, by necessity, be changed to fit the time period, the heart and message of their life stories remain true to Scripture.

Eva: I happen to know you did a LOT of research. What lengths did you go to in order to assure your readers they would get the BEST in historical fiction?
Liz: In addition to the research trips already mentioned, I have collected a rather extensive library-six hundred and thirty-five books to date-focused on Scotland in general, and the 18th century in particular. My Scottish bookshelves are labeled, "Architecture," "Art," "Birds," "Burns" (as in Robert, the poet), "Costume," "Customs," "Domestic Life," "Folklore," and so forth. I consult my resource books constantly as I write. I also have a Scottish cartographer and bookseller who not only drew the map for the front of the novels, but who also reads my first drafts and catches anything that does not ring true.
Have something to say about this article? Leave your comment via Facebook below!
advertise with us
Example: "Gen 1:1" "John 3" "Moses" "trust"
Advanced Search
Listen to Your Favorite Pastors