The Cross & the Pen: Liz Curtis Higgs
Eva Marie Everson, Contributing Writer
Thursday, March 25, 2004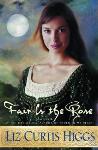 Eva: Liz, personally I find it difficult to write in "dialect" unless it's Southern, which is my roots. How difficult is it for you to write in the Scottish "brogue?"
Liz: A Scottish "brogue" really refers to the accent, the sound of the language. What I'm writing is dialect, involving vocabulary and grammar. Scots, the common language of the Lowlanders in times past, fascinates me. I have five Scots dictionaries to help me find just the right words to sprinkle through the story, enough to give it flavor without (I hope) slowing the reader down. When I can, I choose Scots words that sound like their English counterpart. I also tried to use words in a familiar context or define them elsewhere on the page, and I included a glossary in the back. It helps to have read many 19th-century books written in Scots, and to have taped interviews with modern Scottish folk who still use a few of the guid auld wirds.
Eva: (laughing) The what?
Liz: C'mon now, girlfriend, just read the words exactly as they appear, and you'll see that you DO know them! That's the beauty of Scots – though it may be spelled differently, it sounds much like our English: "good old words."

Eva: Oh, yes! Of course! I was jest funnin' with ya! (My Southern pops out again!) Okay, let's talk theme. Betrayal and forgiveness are the themes (In my opinion, anyway!) found in "Fair is the Rose." They are the underlying themes of the Bible as well and most likely a thread running through all of our lives. How much of yourself did you have to pull from to write about such tender topics?
Liz: Here's what has surprised me about writing fiction: I thought I would be telling someone else's story, but in truth, novelists draw from the very deepest places in themselves, sometimes without even realizing it. The themes you've mentioned are indeed in my novels. Loving someone who does not return that love. Trusting someone, only to have them destroy that trust. Extending forgiveness in the most difficult of circumstances. Receiving forgiveness, knowing it's undeserved. Yes, I've been there. We all have. I have to go there again emotionally when I write such scenes, and am often reduced to tears. It's a fairly therapeutic process, if you can live through it! Yet it's in those dark moments that I most sense the presence of the Lord in my writing loft and feel the deepest connection with my characters and my readers.

Eva: Oh, Liz … I know exactly what you're talking about! Sometimes I come away from my work of fiction feeling like a dishcloth and I have to ask my family to just "leave me alone for awhile." But in the end, we hope for the best for our readers, even if it means wringing ourselves out. Liz, what do you hope your readers come away with at the end of the book?

Liz: A sense of hope, even in the most heartbreaking of circumstances. An assurance of God's promise to Jacob, "I am with you and will watch over you wherever you go" (Genesis 28:15). An awareness of God's plan unfolding around us in unfathomable ways.
Eva: Amen. Would you do something for me? Would you pray for our readers, those who have felt betrayed ... and/or seek forgiveness?
Have something to say about this article? Leave your comment via Facebook below!
advertise with us
Example: "Gen 1:1" "John 3" "Moses" "trust"
Advanced Search
Listen to Your Favorite Pastors