The Cross & the Pen: Patsy Clairmont's "I Grew Up Little"
Eva Marie Everson, Contributing Writer
Saturday, July 17, 2004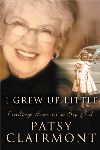 A few years ago, when I was but a baby chick in the publishing and speaking industry, I was asked to make a small presentation at a function. Just beforehand, I received an e-mail from the woman heading up the gathering, which read: Eva Marie, what do you want Patsy Clairmont to say when she introduces you?
What? Patsy Clairmont is introducing me?
When you're in the writing and speaking industry, you are blessed in so many ways. For me, one of the greatest blessings is to be associated with people like Patsy ...being introduced by her went over the top. Recently, I read her latest book, "I Grew Up Little" (W Publishing). I learned some things about Patsy ... and now it's my turn to tell others a bit about her.
Within the book's pages, Patsy lays the truth about her life on the line: this petite powerhouse for God was a high school dropout, a teenage runaway, a wife at 17 and a mother at 20. She has suffered from panic attacks, agoraphobia, has been addicted to caffeine and tranquilizers. At one time, Patsy Clairmont (a woman who spends 30 weekends a year on stage before thousands as she speaks with the Women of Faith conferences) couldn't summon the courage to even get out of bed.
Patsy and I — one witty Southern girl at heart and one chatty Southern girl by birth — got together for a little chit-chat the other day ... wanna listen in?
Eva Marie: Patsy, I so loved your book. It's honest and real. I can just hear your voice in it. What led to your decision to write it?
Patsy: Encouragement from Mary Graham, president of Women of Faith. I personally had had no interest to write my story but she convinced me that it could have redemptive value for others. After two years of "bugging" me, I agreed.
Eva Marie: This is one of those things you talk about with your closest friends but never thought to tell. ...
Patsy:  I had never really thought my life through from beginning to end in the way one has to write it. It was painful ... joyful ... and it opened my eyes to a few things I'd never faced.
Eva Marie: Several years ago I began writing short stories ... just for myself ... about the people in my life who had had any significance ... such as my parents, my brother, friends, teachers, etc. I found the same thing was true. There is pain involved, but in the midst of life's hurts there is so much laughter and joy.
Patsy: I agree.
Eva Marie: Part of your story includes talking about your struggles with agoraphobia (abnormal fear of being helpless in an embarrassing or unescapable situation that is characterized especially by the avoidance of open or public places).  Has this been an ongoing part of your testimony, or something you just recently decided to share?
Patsy: It has been ongoing. It was actually Florence Littauer who nudged me to share that part many years ago.
Eva Marie: Oh, I just love her so much!
Patsy: She is my dear, dear mentor and friend.
Eva Marie: Patsy, what are the numbers, do you know? How many suffer with being a prisoner in their own homes ... and minds?
Patsy: I don't know an exact number but what I found is there are a gazillion who battle panic attacks.
Eva Marie: I personally know about a gazillion and one. But, Patsy ... why do you think we now hear of this ailment so much when we really never heard of it before?
Patsy: I'm not sure if it's pace. ... everything is a battle and a race it seems. It could be because abuse is rampant. And we Americans are famous for our denial.
Have something to say about this article? Leave your comment via Facebook below!
advertise with us
Example: "Gen 1:1" "John 3" "Moses" "trust"
Advanced Search
Listen to Your Favorite Pastors