The Cross & the Pen: Playing by Heart
Eva Marie Everson, Contributing Writer
Tuesday, September 09, 2003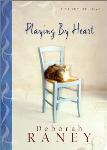 Welcome to "The Cross & the Pen," Crosswalk.com's author-to-author interview column! My sweet friend, Deborah Raney, and I recently shared food at a lovely banquet...including the most delicious dessert. Bemoaning the fact that we'd be sorry later, we delighted in sharing with each other the raptures of every single bite. Afterward, we found a nice little cubbyhole to sit in...and to chat about her latest work, "Playing by Heart" (Barbour 2003). I had to admit to Deborah that I wasn't sure I'd get to read the whole book (even though it's short) before we met...however, as soon as I picked it up, I was hooked! Naturally, this tickled Deb!

Want to hear the rest of what we had to say?

Eva: "Playing by Heart" is the most fun little read! It's called...

Deborah: ...a gift novella.

E: Oh, I like that. A gift novella. It's about 30,000 words. It's just a great read and I think that if someone were making a gift basket this would be the perfect addition.

D: Oh, right! It does have a real gift feel. I call it a romantic comedy because several people have said it made them laugh out loud.

E: I definitely did!

D: It's different from what I typically write – the heart-gripping. This is a more fun read....

E: Okay, let's just start with the title. What was the inspiration?

D: It was kind of a situation where the woman falls in love with someone she's never officially met and so she has to learn to trust her heart. She and this man exchange notes...but she thinks that he is 80 years old! Now I don't want to give too much of the story away, but the main character plays a piano. Her mother always said, "You don't read music. You play by heart." So, it just made a natural title.

E: Did you have a title before you started?

D: It came to me as I was writing. In fact I didn't have the piano in the story, even when I turned it into my publisher. They couldn't quite see the connection, so the piano brought it all together.

E: This takes place largely in a bed and breakfast inn. Now, I happen to know – because we are friends – that you went to a b&b to do some of the work for the purpose of inspiration. Tell me about that.

D: The idea for the story came when I went to a b&b to finish another novel I was working on. We still have children at home and things get hectic. I needed to escape from the telephone, the Internet, the doorbell...all of that...and so we have a bed and breakfast about a mile from our house. I called the owner and said, "Do you have a rate for someone who doesn't need the bed and doesn't need the breakfast but just needs a quiet place to write." They said, "It's free. Come. We'd love to have you." So, I got to go to this beautiful Victorian house and just write. The first day I was there, I was at the dining room table working when this HUGE cat comes up the stairs ... which is what happens in the novella. The character is a writer; she goes to a bed and breakfast ... and up the stairs comes a huge cat.

Anyway, I jotted a note to the owners, thanking them for the use of the house and also talking about the cat. We exchanged notes for a few days ... when suddenly the words, "What if ... " came to mind.

E: What if ... Those two words are, for those of us who write novels, are our mantras. "What if ..."

D: Magic words for a writer.

E: What inspired you for your main character?

D: Well, she's a writer and so am I – although unlike Maddie I'm happily married and she's single. And I have to tell you that I hate research, so anytime I can write about what I already know, I do it. I wanted to write about the writer's life. I think a lot of people have our lives romanticized, they don't realize we're just people and writing is really a job. It's hard work. We have challenges just like any other job....
Have something to say about this article? Leave your comment via Facebook below!
advertise with us
Example: "Gen 1:1" "John 3" "Moses" "trust"
Advanced Search
Listen to Your Favorite Pastors