The Cross & the Pen: Playing by Heart
Eva Marie Everson, Contributing Writer
Tuesday, September 09, 2003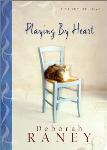 E: Sometimes more. I think sometimes that living up to the dream is the most difficult. Deb, we are inspired every day by everything we see ... so why did you experience this particular thing and think: I'm going to write about this as light-hearted?

D: It's wrenching on the author to write the heart-wrenching words and I just felt it was time to do something a little more light-hearted.

E: But, what are the other differences in writing a novel versus a novella?

D: Probably the main thing is that the author doesn't have time to develop a lot of the story. You can't get the complexity that you get in a novel.

E: I think that's interesting. I think most authors would think the novella would be easier, yet the tone of your voice tells me otherwise.

D: Exactly. In a novella every single word counts. Every single word counts in a novel, too, but it's different. It's not to that extent. With a novel you can go down some bunny trails.

E: And throw in a few red herrings.

D: Yes. That's true. But it's really hard to get your readers to fall in love with a character when you only have 30,000 words; and that's the goal of writing fiction, to get the reader to fall in love with the character and identify with her.

E: So how did you make Maddie lovable?

D: (smiles broadly) Oh, I made her just like me!

(E & D laugh)

D: That was easy!

E: What about Art?

D: Oh, I was in love with Art before I even wrote him! I think the lovable thing about Art is that he is hurting. He's lost his wife and he's hurting. A reader will feel a natural compassion for him. But also, Maddie was exactly what he needed, which the reader would automatically see. Both Maddie and Art had waited a long time for God to do the perfect thing and that's really the point of the book. God's timing is always perfect.

E: What part do you feel that romance fiction plays in furthering the Gospel.

D: God's story – of God and His people – is a romance. We are the bride of Christ. Romance is a perfect reflection of God's relationship to His people. We live in a time when we've forgotten how to cherish the importance of marriage ... how important romance is. We have a lot of secular romances that pervert what God intended romance to be. A lot of Christian romance writers are trying to undo that.

E: Deb, would you pray for those believers who need to be reminded of the Great Romance?

D: Father God, Romance – the love between a man and a woman – is a beautiful gift from Your hand, but every person we love will eventually disappoint us in some way. We praise You, God, that You will never disappoint us for Your love is perfect because you are Love. Help us to embrace Your perfect truth and thus know the Great Romance that has its source only in Jesus Christ. Thank You for loving us when we were unworthy. Thank You for sending Your son, Who loves us with A love so powerful that He willingly laid down His life for us. Help us to remember, Father, that only Your love can offer what we crave, only Your love can satisfy completely, only Your love will never fail.

We thank you and we praise You in the name of our Lord and Savior Jesus Christ. Amen.


Eva Marie Everson is also the author of "Shadow of Dreams" & "Summon the Shadows" and an award-winning national speaker. She can be contacted for comments or for speaking engagement bookings at Bridegroomsbride@aol.com or you can go to www.evamarieeverson.com


Have something to say about this article? Leave your comment via Facebook below!
advertise with us
Example: "Gen 1:1" "John 3" "Moses" "trust"
Advanced Search
Listen to Your Favorite Pastors