The Cross & the Pen: The Art of Helping
Eva Marie Everson
Thursday, June 19, 2003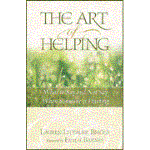 I knew Lauren Briggs and I would get along just fine the very first time I met her. How did I know? Because she and I both like to mix "real" and "costume" jewelry. I know...it's a girl-thing. When Lauren told me of the concept for her new book, The Art of Helping (River Oak, 2003), I was a little...uneasy. Helping usually means some sort of tragedy or need.... Then, when I received a copy of the finished book, I was completely amazed! This isn't a negative book, but a positive one, filled with sections such as: Do Say, Don't Say, What I Wish People Understood, What to Write In A Card, and Prayer.

Want to join me in a personal conversation with Lauren Briggs?

Eva: Let's talk a little about Lauren. First, your parents are well known within the Christian community and beyond. Who are they?

Lauren: My parents, Fred and Florence Littauer, are internationally known speakers and authors. My father recently passed away of a heart attack, doing what he loved to do...sitting at his desk, ministering to the hurting heart of believers. My mother is best known for "The Personalities." She has authored over 30 books, including Personality Plus, PP for Parents, PP for Couples and the bestseller, Silver Boxes.

With the last name "Briggs," you are obviously married. Tell me about your husband and children.
 
I have been married for 28 years to James Randall Briggs, the co-owner of Collector Galleries. He is a numismatist, which means he is a coin dealer.  He has been a coin collector since he was five years old and is blessed to have his hobby become his profession. In the face of having two brothers die because of a severe, yet undiagnosed brain condition, I am blessed to have three sons of my own. Randy Jr. is 25, is a member of "The Aquabats" a parent friendly rock band and is working with my husband in our business. Jonathan is 21 and is a third year student at UCLA, majoring in Music. Bryan is 17 and is hoping to wrap up his high school career early and move on to pursuing a major in vocal performance.

What does Lauren do when Lauren kicks back and wants to just be herself?

Every once in a while, I wish I could know what it is to be "bored", but that doesn't seem likely any time soon. I have a beautiful rose garden with over 45 rose bushes. It sits right outside my home office window, beckoning me to come tend it. That is one of my rewards for a morning well spent, to go spend time pruning and working in my rose garden. My husband and I also sing, not only in our church choir, but in our local community chorus.

You dedicated The Art of Helping to a very special person. Who and why?

When I began writing The Art of Helping, I never dreamed I would be the one in need of comfort.  My father died just two days before I submitted my completed manuscript, and so I dedicated the book to him. He was the one who had great emotional sensitivity and taught me compassion.

He truly was a wonderful man and we are all going to miss him. Lauren, now let's talk about the book. I'll have to be honest; when I first heard your concept I thought, "This could be morbid." But when I received the book I was, quite simply, blown away...EVERY Christian needs this book. So, let me ask you: What made you want to write it?

Potentially, everyone fears reaching out to hurting people. We feel ill equipped and uncomfortable to be in the presence of their pain. Yet, that is exactly what our family and friends need from us. They need our presence and willingness to walk beside them through their difficult time. When you have the tools and confidence of knowing what to say and how to help, we can enter a difficult situation more prepared to help. I found that during my darkest hours, no one knew how much I was hurting, what I was going through or how they might help...that I was not unusual.

Have something to say about this article? Leave your comment via Facebook below!
advertise with us
Example: "Gen 1:1" "John 3" "Moses" "trust"
Advanced Search
Listen to Your Favorite Pastors