The Cross & the Pen: The Art of Helping
Eva Marie Everson
Thursday, June 19, 2003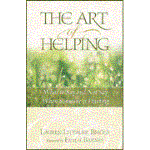 You begin the book with a few words from your journal, dated September 10, 2001. Can you share them?

I remember to this day exactly where I was sitting and what I was doing when I wrote those words. I was sitting at a table on my patio organizing my research for the book when I wrote: This is a book you'll want to read before you need it-so that you will have ideas of what you can do and how you can respond-when you first hear the news.

Obviously that was one day before our greatest tragedy as a nation. How do you think 9-11 changed us when it comes to compassion?

I believe we are a caring and compassionate nation, when we are aware of major tragedies, it is in our heart to respond and want to help. 9-11 was the epitome of such a feeling. Yet, all of our lives began to go back to normal, while the victims families are left with the emptiness and struggles without their loved ones. A recent article on the mothers of 9-11 who were pregnant struck me. Their babies are now 18-months old.  It is hard to believe so much time has passed. They live with the loss of the babies' daddy every day, while my life has continued relatively unchanged.

There are four sections in your book: Personal Crisis, Health Needs, Loss, and Continued Support (prayer, gifts, and recipes). Give us examples of the first three.

Examples of personal crisis are: Caring for an Elderly Parent, Having an Estranged Child, Loss of a Job, or Divorce and Single Parenting. Even within the church we have a high rate of divorce, which often leads to single parenting. Health needs include: Surgery, Chronic Illness, Children with Special Needs and Infertility. In this section I included a chapter on Difficult Decisions. Scientific advances in today's medical knowledge have forced us to make decisions we have never had to make in the past. It is not for us to tell someone else what to do at such a time. As their support community however, we need to provide loving support without a hint of judgment. Loss can be: Loss of a Child, Spouse, Parent, Home, Pet, etc.

Give us a basic "do say" when helping divorced or single parent Christians.

I know I can never take away your hurt, but I love you and am here for you. Or: The future must seem frightening; I'll stay close.

Lauren, my neighbors' daughter was tragically killed at 20. The night of the accident I walked over to their home, looked straight at her mother (who was in the middle of catering a wedding), and said, "This place is going to be crawling with people in about an hour. We have to get all this catering stuff put away." She and I immediately went to work. Later, she said that act saved her. In your book, Susan Shelley--who endured one of the greatest tragedies I've ever read about--says that sometimes helping is as simple as saying, "Can I walk your dog?" What are some of the things one should NOT say?

Don't say: Is there anything I can do to help? It's probably for the best. Well, things could be worse. You know God is in control. Instead, say: This must be very hard for you. I wish I could take this hurt away. I feel for you during this difficult time.  Listen to their heart and hurt and validate those feelings. Don't say: If there is anything you need, give me a call. They will never pick up the phone and tell you what they need. 

Let's talk about children in a different sense. Why are children sometimes the "forgotten grievers?"

In my home, I was the forgotten griever. The attention was on my brothers' needs and the anguish for my parents. No one knew how deeply I was hurting. School kids teased me that my brothers were retards and morons, but I never told my parents because I didn't want to add to their hurt. Children watch the tears and sadness in their parent's lives and will not share what they are really feeling.

In closing, will you offer a short prayer to the Lord for those who are hurting and those who have been called to help?

Father, I thank you for these readers and their willingness to be better equipped to comfort hurting hearts. Help them to understand the sorrow and the pain their loved one is facing.  Give them words that will be comforting and an encouragement.  Strengthen them as they walk in the presence of sorrow, that they may bring compassion and comfort. Help me to show your hope and mercy. In Jesus' most precious name I pray, Amen.


Eva Marie Everson is the author of Shadow of Dreams, Summon the Shadows, the anxiously anticipated Shadows of Light (Barbour, July 2003), and an award-winning national speaker. She can be contacted for comments or for speaking engagement bookings at PenNhnd@aol.com or you can visit her website here. 

Have something to say about this article? Leave your comment via Facebook below!
advertise with us
Example: "Gen 1:1" "John 3" "Moses" "trust"
Advanced Search
Listen to Your Favorite Pastors