The Cure
Harry Kraus, Author
Thursday, July 24, 2008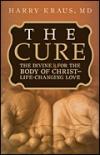 It's not like we deny the heart of the gospel. We give it mental assent, but in action we deemphasize its importance.
What am I talking about? Agape.
Love?
Yes, love. But I've called it by its Greek name to avoid the confusion and emotional baggage that swirls around this word that our culture has robbed of its meaning.
It's the most important component of effective evangelism. Remember what Paul tells us in 1 Corinthians 13?
"If I speak in the tongues of men and of angels, but have not love, I am a noisy gong or a clanging cymbal. And if I have prophetic powers, and understand all mysteries and all knowledge, and if I have all faith, so as to remove mountains, but have not love, I am nothing. If I give away all I have, and if I deliver up my body to be burned, but have not love, I gain nothing." - 1 Corinthians 13:1–3
So there it is. The main thing. But that concept is so distorted by our contemporary culture that it's been left a dreamy emotion, a nebulous and fluffy feeling that we can't get our minds around and therefore ignore in our preparations for the work of the church. But without it we are nothing. All our strategies, partnerships, and efforts at contextualization, cell church, and programs are little more than an offbeat crashing of a cracked brass cymbal.
But I've never heard much more than a passing reference to love within the context of the mission of the church. "How to" books abound. Want peace? Want to stop obsessing? Want to forgive? Want to be free from your past? Our libraries and bookstores will be glad you've stopped in. Hundreds of titles will assist in your search.
But I need to love my neighbor. I need to love my brothers and sisters in Christ. And leave it to Jesus to make my life even more difficult when he said, "Love your enemies."
Jesus didn't make it optional. Over and over the injunction to love is issued in the strongest language.
"A new commandment I give to you, that you love one another: just as I have loved you, you also are to love one another." - John 13:34
"This is my commandment, that you love one another as I have loved you." - John 15:12
But I can't just respond to a command and love, can I? Jesus can't be serious.
Or is he?
Why do we ignore love? Perhaps we just assume the basics are, well, just that—basic. Been there. Done that. Of course, there's love. Every Christian knows that God is love. We all sang it loudly in Sunday school. And all of us memorized John 3:16. Some of us even mastered 1 Corinthians 13, the love chapter. So where is it? Does it really define us as we were told it would? Is it possible that the church has just moved on to other, less ethereal topics and left love for those who are honeymooning with their faith? Has love been relegated to a syrupy-sweet, dreamy emotion, unworthy of serious time and study? Is there really anything syrupy-sweet about dying in agony on a jagged, bloodstained cross?
Maybe we've been looking at it all wrong. But we can't afford to do that. Having a correct theology of agape—God's love for us, especially seen in his Son's death in our place, now flowing through us to others—beats at the very heart of the gospel.
To uncover the answers, we need to back up from the love chapter of 1 Corinthians 13 to examine the metaphor Paul uses to describe the church in 1 Corinthians 12. We, the church, are the body of Christ. I've spent most of my adult life preparing for and practicing the art of surgery, performing thousands of dissections in an attempt to change the effects of pathology (illness). My prayer is that within these pages, through a careful dissection of Paul's metaphor, we'll come to an understanding together about Christ's command (love!) and how to fulfill it.
Have something to say about this article? Leave your comment via Facebook below!
advertise with us
Example: "Gen 1:1" "John 3" "Moses" "trust"
Advanced Search
Listen to Your Favorite Pastors