The Discipline of Spiritual Discernment
Tim Challies, Author
Thursday, March 27, 2008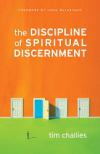 We can now read Solomon's psalm, written after the events of that night, a psalm in which he asks God's assistance in applying wisdom:
Give the king your justice, O God,
and your righteousness to the royal son!
May he judge your people with righteousness,
and your poor with justice!
Let the mountains bear prosperity for the people,
and the hills, in righteousness!
May he defend the cause of the poor of the people,
give deliverance to the children of the needy,
and crush the oppressor! (Ps. 72:1-4)
Unlike Solomon, I have not been called by God to govern a nation. But even in the humble ways God has called me to lead, I feel the desire of Solomon. Even when I look at my family and think of how I must lead my wife and teach my children, I feel like a little child, uncertain of what to do and how to act. So often I have called out to God for wisdom and for discernment. So often I have sought to be like Solomon. So often I have wanted to know that God is pleased with my requests.
God honored Solomon's request because he was pleased with what Solomon had asked. This teaches us that God values discernment and honors those who seek after it. In this chapter we will see the importance the Bible places on discernment by looking at both the curses that accompany a lack of discernment and the blessings that accompany the pursuit of discernment.
We see first that a lack of discernment must point to one of three unavoidable conclusions.
1) Lack of Discernment Is Proof of Spiritual Immaturity
In the closing verses of Hebrews 5, the author of this great letter warns his readers against apostasy, against straying from the faith:
About this we have much to say, and it is hard to explain, since you have become dull of hearing. For though by this time you ought to be teachers, you need someone to teach you again the basic principles of the oracles of God. You need milk, not solid food, for everyone who lives on milk is unskilled in the word of righteousness, since he is a child. But solid food is for the mature, for those who have their powers of discernment trained by constant practice to distinguish good from evil. (Heb. 5:11-14)
The author of Hebrews has much he would like to tell the recipients of this letter. There is much knowledge he would like to impart to them, so many important things they need to learn. Unfortunately, what he wishes to communicate is "hard to explain" not because it is obscure or difficult to understand, but because the people have become "dull of hearing." They are not stupid people and are not intellectually inferior, unable to grasp such truths. The reason he cannot relay these important truths is not because of what these people are by nature, but of what they have become.2 There is much the author would like to say, but he cannot and will not because of the spiritual immaturity of the people to whom he writes. They lack understanding, and they lack discernment.
The recipients of the letter to the Hebrews are not new Christians or recent converts, for the author says that by this time they ought to be teachers. This is not to say that they all ought to be ministers or preachers, but that they should all be sufficiently mature so they are able to understand and to teach others the basics of the faith. Sadly, though, they still have not understood the basics themselves.
They do not have the childlike faith Jesus so values but a childish, immature faith. In this way they are like so many Christians since them. Richard Phillips writes:
The recipients of this letter were like many Christians today who think that theology is a waste of time. What difference does it make, people ask, whether God is a Trinity or not, whether Christ's righteousness comes by imputation or infusion, and whether regeneration comes before faith or after? What is important, they say, is that we get along with each other. Then they cite passages commending a childlike faith, as if that were the same thing as a childish faith, that is, one that is indifferent to or ignorant of the Word of God.3
Have something to say about this article? Leave your comment via Facebook below!
advertise with us
Example: "Gen 1:1" "John 3" "Moses" "trust"
Advanced Search
Listen to Your Favorite Pastors