The Discipline of Spiritual Discernment
Tim Challies, Author
Thursday, March 27, 2008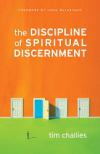 We live in an age where too many who profess to be Christians rarely consider their spiritual maturity—an age when many consider spiritual immaturity a mark of authenticity, and when people associate doubt with humility and assurance with pride. Far too many people consider sound theology the mark of a person who is argumentative and proud. Far too many people are just like the audience to whom Hebrews is addressed. This letter draws a clear line connecting a lack of discernment with spiritual immaturity so that those who lack discernment are those who are spiritually immature. Scripture makes it plain: if you are not a person who exhibits and exercises discernment you are not a mature Christian.
My wife and I have been blessed with three children and often marvel that they have survived through infancy, for we have seen them put the most horrible and nauseating things in their mouths (things my editor will, wisely no doubt, not let me mention in this book!). Children have no understanding of what is good for them and will sample anything. Their mouths are constantly wide open, eager to taste and to eat anything that looks good to their untrained eyes. It is only with maturity that children learn what is truly good for them and what is not. Only with maturity will children learn that what looks good may not truly be good. Children need to learn to differentiate between what will hurt them and what will make them healthy.
Eventually they learn to discriminate; they learn to discern. In the same way, mature Christians have learned to differentiate between what is pleasing to God and what is not, between what is consistent with Scripture and what is not. The Bible places great emphasis on spiritual maturity because, like children, immature believers are prone to sample anything. They are attracted to what looks good to their untrained eyes. Only as they grow in maturity are they able to differentiate between what pleases God and what does not. Because of this there can be no growth without discernment.
My wife and I have learned something else about children: children hate to be called children. Babies hate to be called babies. They don't like to be known as immature or childish, even when they clearly are. Every little boy wants to be a big boy. Every little girl wants to be a woman. God has somehow built into us a desire to mature. Every person wants to feel mature and grown up. When the author of Hebrews describes his readers as children he is not paying them a compliment, and he knows that they will be insulted. He hopes to show them their desperate condition and to impress upon them how serious their spiritual condition is. God demands and expects maturity, and maturity is inseparable from discernment. A Christian cannot have one without the other.
2) Lack of Discernment Is Proof of Backsliding
A lack of discernment is given as proof of spiritual immaturity, but this is not all. Those who are not discerning may also be those who are backsliding, whose faith is diminishing rather than increasing. "For though by this time you ought to be teachers, you need someone to teach you again the basic principles of the oracles of God. You need milk, not solid food, for everyone who lives on milk is unskilled in the word of righteousness, since he is a child" (Heb. 5:12-13). While the subjects of this letter should have been growing in their faith, progressing from milk to solid food, they were instead moving backwards, returning to baby food.
As children grow and mature, they begin to be able to eat and digest solid food. Most children are weaned quickly and encouraged to enjoy food more substantial than mere milk. Even while they are still tiny, children long for substantial food. It is good and natural that they desire that which will sustain them more than milk. We would not consider a child healthy who, at six years of age, still drinks only milk, for that child would be weak and sickly. The same is true in the spiritual realm. A person should pass quickly from spiritual milk to solid foods, from the basics to what is more advanced. A person should hunger to quickly learn and understand what is elementary and should soon long for what is more advanced. This is a sign of maturity and the mark of one who has been truly saved. On the other hand, a person who regresses from solid food to milk is a person who is desperately unhealthy, and who will soon wither away and perish.
Have something to say about this article? Leave your comment via Facebook below!
advertise with us
Example: "Gen 1:1" "John 3" "Moses" "trust"
Advanced Search
Listen to Your Favorite Pastors