The Discipline of Spiritual Discernment
Tim Challies, Author
Thursday, March 27, 2008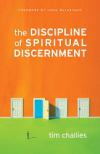 Discernment, then, is not an end in itself. Rather, discernment is the means to a far greater and nobler end. By practicing spiritual discernment we guard the gospel, the message of eternal life. The apostle Paul, writing to his young protégé Timothy, called him to do just this in both of the letters to Timothy recorded in Scripture. "O Timothy, guard the deposit entrusted to you," Paul writes in 1 Timothy 6:20. In his next letter he reiterates, "By the Holy Spirit who dwells within us, guard the good deposit entrusted to you" (2 Tim. 1:14). Through the power of the Spirit, Timothy was to guard the gospel.
This word deposit is taken from the ancient world. In the age before personal safes and safe deposit boxes, a person who was going to be away for some time might ask another to care for a treasured possession. He would entrust this possession to another, depositing it to him, and this person was bound by a sacred oath to protect it.7 In his letters to Timothy, Paul, who knows that he will not always be able to encourage and mentor Timothy, entrusts to him the gospel message. Timothy would be expected to guard this message and to find worthy, godly Christians to whom he could in turn entrust it. And so the gospel has been protected and has carried from one generation to the next through the long, storied history of the church. And so it has been handed in trust to you and to me and to all who believe.
John Stott, in his introduction to his commentary on 2 Timothy, says this:
The church of our day urgently needs to heed the message of this second letter of Paul to Timothy. For all around us we see Christians and churches relaxing their grasp of the gospel, fumbling it, in danger of letting it drop from their hands altogether. A new generation of young Timothys is needed, who will guard the sacred deposit of the gospel, who are determined to proclaim it and are prepared to suffer for it, and who will pass it on pure and uncorrupted to the generation which in due course will rise up to follow them.8
God has given us the gospel in trust. He has deposited it to our account and expects that we will guard this priceless, precious treasure. God has entrusted to us something of infinite worth and unsurpassed beauty. He has not left us to our own devices, but he has provided for us the Holy Spirit, that with his help we may be faithful in guarding the gospel of Jesus Christ. Spiritual discernment allows us to keep the gospel central and allows us to see and guard against error. Spiritual discernment is absolutely crucial to the one who would understand and heed the gospel. Nothing less than the gospel is at stake.
THE CALL
As we saw at the beginning of this chapter, King Solomon knew the importance of discernment. The early verses of Proverbs are a call for both wisdom and discernment:
My son, if you receive my words
and treasure up my commandments with you,
making your ear attentive to wisdom
and inclining your heart to understanding;
yes, if you call out for insight
and raise your voice for understanding,
if you seek it like silver
and search for it as for hidden treasures,
then you will understand the fear of the Lord
and find the knowledge of God. (Prov. 2:1-5)
We are to incline our hearts to discernment and to cry out for it. We should desire spiritual maturity, spiritual growth, and spiritual life. We can only have these wonderful benefits if we have discernment. We serve a God who stands ready and willing to bestow this gift upon those who seek after it.
Proverbs 2 is a father's call to his son to embrace and treasure discernment. There are few things that are as important, as precious, as spiritual discernment. The Bible cries for you to seek after it so you can live, so you can grow, and so you can mature in your faith. Will you answer the call?
KEY THOUGHT
Have something to say about this article? Leave your comment via Facebook below!
advertise with us
Example: "Gen 1:1" "John 3" "Moses" "trust"
Advanced Search
Listen to Your Favorite Pastors