The Discipline of Spiritual Discernment
Tim Challies, Author
Thursday, March 27, 2008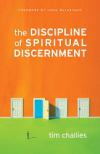 The Bible teaches there is a clear relationship between spiritual discernment and spiritual maturity. For a Christian to be mature, he must also be discerning. Those who are not discerning must be immature, backsliding, or dead. Conversely, those who exhibit discernment must be alive, growing, and mature. It is clear from Scripture that all Christians are expected to pursue discernment, for the Bible cries out repeatedly for us to do so. It is the responsibility of each Christian to heed and to answer the call and so to guard the deposit God has entrusted to us.

1C. F. Keil and F. Delitzsch, Commentary on the Old Testament: 1 and 2 Kings & 1 and 2 Chronicles (Peabody, MA: Hendrickson, 1866), 31.
2Phillip Hughes, Hebrews (Grand Rapids, MI: Eerdmans, 1977), 189.
3Richard Phillips, Hebrews (Phillipsburg, NJ: P&R, 2006), 177.
4I am indebted to pastor Phillip Way for his series of articles called "Learn to Discern"
(http:// pastorway.blogspot.com/2006/06/failing-to-discern.html).
5Phillip Way, "Failing to Discern" (http://pastorway.blogspot.com/2006/06/failing-to-discern.html).
6J. C. Ryle, "Evangelical Religion" (http://www.tracts.ukgo.com/ryle_evangelical_religion.htm).
7William B. Barcley, 1 & 2 Timothy (Faverdale North, UK: Evangelical Press, 2005), 210-11.
8John Stott, The Message of 2 Timothy (Leicester: Inter-Varsity Press, 1973), 22.

Copyright © Tim Challies. Published by Crossway Books, a publishing ministry of Good News Publishers. All rights reserved. No part of this publication may be reproduced, stored in a retrieval system, or transmitted in any form by any means, electronic, mechanical, photocopy, recording, or otherwise, without the prior permission


Have something to say about this article? Leave your comment via Facebook below!
advertise with us
Example: "Gen 1:1" "John 3" "Moses" "trust"
Advanced Search
Listen to Your Favorite Pastors