The Gentle Warrior (Part 2) - Mrs. General Lee in Richmond
John Perry, Contributing Writer, Faith in God and Generals
Tuesday, January 28, 2003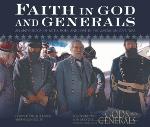 The next month brought the kind of news that every soldier's mother hoped never to hear. Brigadier General William Henry Fitzhugh Lee—"Rooney," her second son—was shot in the thigh at the battle of Brandy Station on June 9. She thanked God that the wound was not life threatening and rejoiced when Rooney received a furlough to recuperate at Hickory Hill, home of her husband's Uncle William Wickham.
There was no question in Mary's mind that she should nurse him back to health, and so she made the difficult trip by carriage to the plantation, a few miles north of Richmond on the Pamunkey River. Rooney was healing nicely and recovering his strength until the morning of June 26, when a posse of Federals rode up the drive to the plantation office that had been converted into Rooney's quarters, claimed the bedridden officer as a prisoner of war, bundled him into old Mr. Wickham's carriage, and disappeared as fast as they'd come.
The news that summer continued grim, though it would be yet awhile before they realized July of 1863 marked the beginning of the end. On July 4 Vicksburg fell at last, starved and exhausted after forty-seven days, giving the Union undisputed control of the Mississippi from New Orleans to St. Louis and splitting the Confederacy in two. The same day back east, General Lee retreated in a thundering downpour from the hills of Gettysburg, the deepest penetration ever into enemy territory, despondent over opportunities lost but determined to carry on.
When Mary Custis Lee returned to Richmond it was to a small rented house at 210 East Leigh Street. There the mistress of Arlington House had not a chair or a spoon to call her own. But she borrowed odd pieces of furniture, found a cache of linens (this difficult because so much had been torn up for bandages) and carpets (likewise rare, cut up for army blankets), then set up her sock factory and resumed knitting day and night.
Early in December, one of Mary's most frequent and fervent prayers was answered when Robert arrived at Richmond on official business and came to be with her at the house on Leigh Street. It had been six months since they'd seen each other, and each was distressed by the other's appearance. Robert saw Mary's disability was worse than ever, the lines of pain and worry in her face chiseled deeper. Mary saw a man aged dramatically, his beard nearly white now, his figure so heavyset that he had had to order bigger uniform jackets, his energy and mobility impaired by the pain of angina and the burdens of an unwinnable war.
And yet there was so much to be thankful for. Mary and her husband hadn't spent Christmas together since 1859. The cramped and modest house on Leigh Street was far from the elegant ballroom at Arlington, appointed with Washington's favorite furniture and decorated every Christmas with garlands from Arlington Forest, dried fruits, lavish bows, the fragrance of roasted pheasants drifting in from the dining room and the Custis and Washington family silver polished to its utmost brilliance.
The great house and its contents were in the hands of strangers now, and what little silver Mary was able to save sat tarnishing, buried in the dirt somewhere far away. But it was Christmastime and Robert was here with her, as were all three of their daughters and oldest son, Custis. They'd heard, too, from Rooney in prison at Fort Lafayette, in good health and good sprits, his wound fully healed.
They decorated their small rooms with holly boughs and cranberries, built up the fires of scarce and expensive coal a little brighter in spite of the cost, and celebrated gifts that no war could take away: the gifts of love between husband and wife, between parent and child, and the unspeakable gift of God's only Son to a hopeless and fallen world.
Sitting quietly before the fire late on Christmas Day, Mary let her thoughts drift to the image of a young woman, newly engaged, standing straight and beautiful at a window overlooking her mother's vast rose garden and on toward the silvery Potomac River shimmering in the moonlight. Ancient oaks towered overhead. God had just entered her life and she couldn't sleep on account of it. She was too excited and couldn't make herself lie down until she captured her emotions on paper. They were too precious and intimate to put in a letter, much less talk to anybody about. And so she put them in a prayer journal, a letter to God:
I would not exchange the hope I have now in my Saviour for all that the world could give. I now solemnly dedicate myself & all that I have or may possess to His service. Have I not the sweetest promise for the days of temptation & darkness? Why should I fear? Oh doubting soul, trust entirely to thy God for He will yet glorify thee! My prayer is for a stronger faith, though I sometimes shrink at the tribulation I may be called to endure for this purpose. But Jesus is all sufficient.
Separated from her home, her health, her heritage, her livelihood, her friends, her worldly riches, and even her beloved husband who had returned to his troops in the field, faith was about all Mary Custis Lee had left in these troubled times. But faith was all she needed.
Mary smiled and looked into the fire, her eyes dancing.


---

Excerpted from Faith in God and Generals, compiled by Ted Baehr and Susan Wales.  Copyright © 2003, Ted Baehr and Susan Wales.  ISBN 0-8054-2728-7
Published by Broadman & Holman Publishers.  Used by permission.  Unauthorized duplication prohibited.

Have something to say about this article? Leave your comment via Facebook below!
advertise with us
Example: "Gen 1:1" "John 3" "Moses" "trust"
Advanced Search
Listen to Your Favorite Pastors