The Great Christmas Bowl
Susan May Warren, Author
Friday, October 16, 2009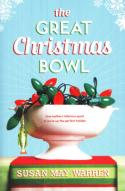 "I've been thinking of playing for a while," he said, shrugging. "It's my last chance."
Summertime had begun its slide into fall, the northern nights cooling. In two short months, we'd have our first snowfall. As I stared at my son—his stringy blond hair, his muscles that just needed toning, the way his gaze slid away from me and onto the floor—I wondered if he expected me to say no.
I took the pen and signed the form without reading it.
Teenage sons are often difficult to encourage. Instead of erupting into a wild jig of joy in the middle of the kitchen, I took the subtle route. I purchased football cleats and set them by the door to his room. I filled his water bottle every morning, packing it with ice, then slipping it into his backpack. I started baking pot roasts and cutting him the largest piece. I bought Bengay, put it on his pillow. I set vitamins out for him at breakfast.
And sometimes, yes, I snuck up in my SUV and sat at the edge of the field, behind the goalposts, watching practice.
My son had talent. A lot of talent. And I wasn't the only one who noticed. Our residence in a small town played to Kevin's odds, and being bigger and faster than most of his teammates made up for his inability to block. Coach Grant started him at tackle, then moved him to fullback, then, after noting his ability to twist out of a hold (thanks to years of wrestling for the remote control with his brothers), landed him at tailback.
To my silent glee, my son had the moves of Walter Payton and could dance his way up the field, leaping opponents, breaking tackles, and generally restoring my faith in the Wallace family football gene. I couldn't wait for the season to start. Finally, I had a Big Lake Trout.
I purchased a season pass. A stadium cushion. A foam finger.
I was the first one in the gates on the day of the season opener. Mike stood on the sidelines next to the requisite ambulance, something that I'd always noted but never fully appreciated until now.
He waved to me as I plopped down my cushion, pulled my red and black stadium blanket over my knees, and wrestled out my digital camera, prepared to capture every moment of my son's magnificent run to victory. Mike had taken Kevin out for dinner the night before for what I hoped would be a pep talk/strategic-planning session. I wasn't the only one holding tightly to silent hopes.
"You're here early."
I looked up from reviewing shots of Brianna's college graduation to see Bud Finlaysen greeting me from the field. Bundled in orange hunting coveralls as an undergarment, he wore over the top the shiny black and silver costume of the Big Lake Trout team mascot. Bud had served as the Trout since what I assumed was the dawn of time, or at least the game of football, and we needed him like summer needs lemonade. He and his fish costume comprised the entirety of our cheerleading squad. Our cheerleaders had defected three years prior, and despite the efforts of our paltry pep band, we were woefully lacking in sideline team spirit.
Bud held his headpiece under one arm, the gargantuan mouth gaping open. When worn, his face showed through the open mouth, the enormous fishy eyes googling out from atop his head, a spiky dorsal fin running along his back. He'd shove his hands into two front fins that sparkled with shiny silver material. The costume split at the bottom for his black boots, and a tail dragged behind him like a medieval dragon. Once fitted together, the Big Lake Trout towered nearly eight feet tall, although with the tail, it easily measured over ten. Ten feet of aquatic terror.
"I have a son playing tailback," I said, holding up my camera and taking a shot of Bud. "Gotta get a good seat."
Have something to say about this article? Leave your comment via Facebook below!
advertise with us
Example: "Gen 1:1" "John 3" "Moses" "trust"
Advanced Search
Listen to Your Favorite Pastors