The Great Christmas Bowl
Susan May Warren, Author
Friday, October 16, 2009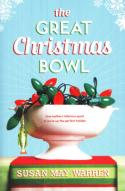 Bud laughed. I remembered him from the days when I attended Big Lake High. He worked as the school janitor. Even then he seemed ancient, although he must have been only twenty years or so older than I was. Thin, with kind blue eyes and a hunch in his back, he'd drag his yellow mop bucket around the halls singing Christmas carols, even in May.
"Maybe this will be the year they go to state," he said, pulling on his giant head. "They've got some good players." He gave me a little wink, as if to suggest Kevin might be one of them.
I smiled, but inside I longed for his words to be true.
State champions. The Super Bowl of high school sports. I could barely think the words.
Bud moved up the field, where he stood at the gate, waiting for the team to pour out onto the field. I waved to friends as the stands filled. In a town of 1,300, a Friday night football game is the hot ticket. A coolness nipped the air, spiced with the bouquet of decaying leaves and someone grilling their last steaks of the season.
The band, a motley crew that took up four rows of seats, assembled. I hummed along as they warmed up with the school fight song.
Town grocer Gil Anderson manned the booth behind me and announced the team. I leaped to my feet in a display of disbelief and joy as the Trouts surged out of the school and onto the playing field.
Each player's hand connected with one of Bud's fins on the way to the field.
I spotted Kevin right off, big number 33. He looked enormous with his pads. As he stretched, I noted how lean and strong he'd become over the past six weeks of training. I held my breath as he took the sidelines, wishing for a start for him. To my shock, he took the field after the kickoff, just behind the offensive line.
I've never been one to hold back when it comes to football. I cheered my lungs out, pretty sure the team needed my sideline coaching. And when Kevin got the ball and ran it in for a touchdown, I pounded Gretchen Gilstrap on the shoulders in front of me. "That's my son!"
She gave me a good-natured thumbs-up.
We won the game by two touchdowns and a field goal. As Kevin pulled off his helmet and looked for me in the stands, his blond hair sweaty and plastered to his face, I heard Bud's words again: "Maybe this will be the year they go to state."
What is it they always say? Be careful what you wish for?
***

"Amazing run on Friday!"
"I didn't know your son could play football!"
"Kevin has his father's moves—I remember when Mike took them all the way to state!"
I love my church. I stood in the foyer, receiving accolades for birthing such a stupendous athlete, smiling now and again at Kevin, who was closing up shop at the sound board that he ran every Sunday. Mike had already gone to get the car—his favorite "giddyap and out of church" maneuver. I still had more compliments to gather.
After all, Kevin had been a ten-pound baby. I get some credit.
I worked my way to the fellowship hall to pick up my empty pan. With eighty members, sixty attendees on a good Sunday, we took turns hosting the midmorning coffee break. I had whipped up a batch of my grandmother's almond coffee cake.
Pastor Backlund stood by the door, and when I finally reached him, he grinned widely. "Great game, Marianne."
"Thanks. I'll tell Kevin you said so."
"Must be strange to have your youngest be a senior this year."
I was trying not to think about that, but yes, although I was thrilled to see Kevin move off the sofa and onto the playing field, I was dreading the inevitable quiet that would invade our home next year. I smiled tightly.
Have something to say about this article? Leave your comment via Facebook below!
advertise with us
Example: "Gen 1:1" "John 3" "Moses" "trust"
Advanced Search
Listen to Your Favorite Pastors