The King's Legacy: A Story of the Wisdom of the Ages
Jim Stovall, Author
Thursday, August 06, 2009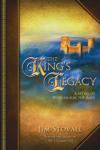 EDITOR'S NOTE: The following excerpt is taken from Jim Stovall's novel, The King's Legacy. © 2009 Cook Communications Ministries. Used with permission. May not be further reproduced. All rights reserved.

Once upon a time, there was an enchanted kingdom in a land far, far away. The kingdom was ruled by a benevolent and much-loved king. He had led his people through many difficult times, and they had finally reached a golden age of peace, prosperity, and happiness.
The king summoned all of his wise men together and said, "Now that our land is enjoying a season of prosperity and peace, I wish to leave a permanent legacy of my reign as your ruler."
The king went on to tell his wise men that he would like their best thoughts and ideas as to what he could do to create a fitting tribute to all the people of the kingdom and his reign as their leader. Each of the wise men left the Throne Room determined to come up with the best idea to present to the king, as they all knew that the king's chosen action would be remembered for generations.
On the appointed day and hour, the wise men reconvened in the Throne Room.
The king said, "I want to hear your suggestions one at a time, so that I might determine what would be a fitting legacy for me to leave in honor of my reign as king."
The first wise man approached the steps leading to the throne, bowed with dignity, and began. "Your Highness, since the beginning of recorded history, great rulers have left magnificent feats of architecture as tributes to their greatness. One need only look to the east and think of the great pyramids that have stood for generations and will remain throughout time, paying homage to the pharaohs."
The wise man bowed again and backed away from the throne.
The king fell silent and was lost in deep thought, then said, "I am pleased with your suggestion as it has much merit. Indeed, a great edifice could stand for thousands of years to proclaim the greatness of our people and my reign as their king."
The second wise man approached the throne and bowed reverently. He said, "Oh, great King, if I may humbly suggest that a gold coin be designed and minted bearing your image and in your honor. This coin could be distributed throughout the kingdom and, carried along the trade routes as if by friendly winds, it would literally be distributed around the world signifying your power and majesty."
The king nodded and smiled. He seemed pleased with this suggestion also. He then beckoned the next wise man to approach. The wise man dutifully bowed and said, "Your highness, may I suggest that a monument of heretofore unknown proportion be erected in your image. Great reflecting pools and immense gardens would surround the statue. People would travel from the four corners of the earth to marvel at its splendor and pay respect and tribute to your greatness."
The king smiled and stated, "Each of these suggestions has been well thought-out and presented. Before I go to deliberate my final decision, are there any other suggestions?"
After a long pause, the eldest wise man stepped forward. The king smiled and said, "My great and wise advisor, you have been with me from the beginning of my reign to this day, and you have always served me well. What say you in this matter?"
The elderly wise man replied quietly, "Your highness, may I suggest that each of my colleagues has proposed a fitting tribute to your greatness in the traditional sense; however, great buildings, gold coins, and monuments serve as tributes to other rulers from other days. May I humbly offer my suggestion? Something altogether different?"
The king nodded in assent.
"The one thing that could pay tribute to your greatness for thousands of years to come would be the proclamation of the Wisdom of the Ages. This would be an opportunity for you, oh great one, to communicate the greatest secret of the known world to benefit all humanity.
"Buildings and coins and statues will all pass away, but the Wisdom of the Ages would last forever. This would, indeed, be a fitting tribute to the king I humbly serve."
The king fell into deep thought. Finally, he told all of his servants and the wise men to leave him so that he might choose the tribute most fitting to his reign as their king.


©2009 Cook Communications Ministries. The King's Legacy: A Story of the Wisdom of the Ages by Jim Stovall. Used with permission. May not be further reproduced. All rights reserved.
The King's Legacy: A Story of the Wisdom of the Ages by Jim Stovall
David C Cook/June 2009/ ISBN 978-1-434765-93-2/144 pages/softcover/$12.99
www.davidccook.com - www.jimstovall.com
Have something to say about this article? Leave your comment via Facebook below!
advertise with us
Example: "Gen 1:1" "John 3" "Moses" "trust"
Advanced Search
Listen to Your Favorite Pastors