The Moment Between
Nicole Baart, Author
Tuesday, June 02, 2009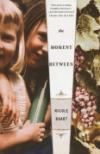 And yet Abigail wasn't naive. She knew that her employer loved her because of the photo. It would have been too much to ask for Colton to love her, or at least think he did, because of herself. But while she probably should have been reticent of attention resulting from such a faint and improbable notion, Abigail accepted—almost expected—the source of Colton's desire.
The photograph in question hung neatly squared and centered on a fabric-covered board adorning the west wall in the reception room. It was a concession to the more traditional bulletin board, replete with employee photographs that were intended to look candid but often looked overposed.
Abigail knew of the board, she even shot glances at it whenever she could to detect updates and changes, but she was not aware upon settling into her position that tradition dictated a spot for her photo front and center ASAP.
It was her third day of work, and Abigail was immersed in balancing infinitesimal details and worlds away from the air-conditioned office she inhabited when Colton startled her with a quiet "Ahem."
Her head was bowed, and her forearms rested on endless pages that sprouted like an unruly crop of paper weeds across her generous desk. Abigail blinked and raised her eyes, just her eyes, in time to be blinded by the flash of Colton's expensive Canon. He laughed and snapped a few more pictures for which she cleared off her desk, sat up straight, and smiled, thin-lipped and toothy and even coy, trying them all in the hopes that one would be right.
But the next day, Abigail was surprised to see that the photo gracing the quasi bulletin board was the first of the batch. She knew she was looking at herself because seeing the small, hunched form over the crowded desk was a sort of déjà vu—she had been there before. If not for that, Abigail would have never believed that the woman staring back at her was her own reflection. The woman in the photograph had luminous—there was simply no other word for them—luminous black eyes of the starry-sky variety: endless and opalescent and dark like a time before the genesis. Like the event horizon of identical black holes—no way out, but no matter, for who would ever want to leave? Beneath the twin universes of those eyes, her lips were slightly parted, pink and full and evocative of bruised raspberries. Her skin glowed faintly (fluorescent light reflecting off all that white paper?), and her shadowy curls were framing and soft. The woman was lovely.
But what unnerved Abigail the most was that Colton had caught her at a moment between. A rare, uncovered moment between expressions: a moment of evaporation before the advent of her surprise became the dutiful smile that spread across her face in the split second after the shutter snapped. This woman was a living mystery.
Abigail wished she knew her.
***
One day, a few months after she started at the firm, Abigail went into Colton's office to ask him a question about the tax return of a dual citizen living out of country. It was a legitimate question, but Blake's office was closer than Colton's, and her admirer acknowledged that fact the second Abigail rapped her knuckles on the doorframe. She realized almost too late that her presence would be read as an invitation, and sure enough, a smile unfolded across Colton's face like a flag pulled taut in a billowing wind.
"Come in, Abigail! Why don't you close the door behind you? There's something I've been meaning to talk to you about."
Abigail did as she was told and crossed the plush, carpeted floor of Colton's office with her heart stuck fast in her throat.
"But first—" Colton set aside what he had been working on—"what can I do for you?"
Have something to say about this article? Leave your comment via Facebook below!
advertise with us
Example: "Gen 1:1" "John 3" "Moses" "trust"
Advanced Search
Listen to Your Favorite Pastors