The New Media Frontier
John Mark Reynolds and Roger Overton, Editors, Authors
Thursday, October 23, 2008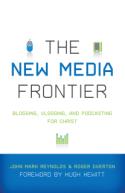 Slowly there developed an aristocracy of information and performance that began to stamp out competition. The local community theater could not compete with Hollywood. Even national filmmaking could not compete with the massive power of talent concentrated in Los Angeles making expensive films. The local paper could not easily compete with the national news service. Small regional colleges struggled to compete with giant state universities.
Homogeneity in speech and acceptable opinions resulted. Even regional accents could not survive the advent of television and movies, which tended to standardize speech patterns. Powerful media figures could marginalize or promote figures. Billy Graham could be puffed by William Hearst, developing an international ministry partially at the expense of regional ministries.
The dominance of preserved discourse eventually led to mass "orthodoxies." It was hard for small movements to compete with the power of those who had means to dominate a region with their preferred preserved discourse. Since power tended to be concentrated at national levels, bizarre and dangerous ideologies (such as Stalinism) could thrive by monopolizing the means of distribution of preserved discourse. A region could be neighbors with utterly different ideologies with little fear of "contamination" from the other ideas.
Even in Western nations that valued liberty and multiple opinions, expense in the production and distribution of preserved dialogue limited discourse. Options were criminally few in Stalin's Russia but, while crucially better, were still not broad by new media standards in Franklin Roosevelt's America. Fortunately, both World War II and the Cold War marked the triumph of more liberal societies over the possibility of an entire Western World held in thrall to one cruel ideology, whether fascism or communism.
Where there was a consensus about knowledge, stunning good and little harm was done by this situation. In engineering and the sciences, the vast wealth of the twentieth century was unlocked through the standardization and regularization of scientific methods and language.
It was also easy to develop a canon of "greats" in the arts and literature that did much to raise the tone of society. Shakespeare, the Book of Common Prayer, and the King James Bible could be read universally in the English-speaking world. This helped create a common cultural and linguistic framework that unified people groups in the Anglo-sphere.
There was remarkable growth in those areas best served by "preserved discourse" (science, "high" arts), but at a cost to those areas that need some "live" discourse such as the humanities. Folk art finds it difficult to flourish when it is forced into immediate competition with the establishment.
Christians Need Live and Preserved Performance
Christians do not choose between live and preserved discourse. One is not good and the other bad. Folk religions might denigrate the religion of books, but Christians do not. Some modern hedonists might want to cocoon away from the culture, but no Christians can and be true to the Faith.
Christians are inherently part of a community of believers, the gathering of his visible body on earth. This living body of Christ cannot be preserved in stone or writing but must be experienced in his church. If some Christians are called to a hermitage, they are the exception to emphasize the rule. As Hebrews 10:24–25 commands: "And let us consider how to stir up one another to love and good works, not neglecting to meet together, as is the habit of some, but encouraging one another, and all the more as you see the Day drawing near."
The importance of living experience does not mean that Christians are hostile to preserved discourse. After all, Christians are also people of the Book, the Creeds, and centuries of literature, art, and music. Christians live together in a community informed by the preserved goodness, truth, and beauty of the past or other communities.
Have something to say about this article? Leave your comment via Facebook below!
advertise with us
Example: "Gen 1:1" "John 3" "Moses" "trust"
Advanced Search
Listen to Your Favorite Pastors