The Power of Being a Woman: Going Over His Head
Michelle McKinney Hammond, Author
Wednesday, August 11, 2004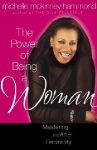 This applies to any of us who expect the man in our world to produce peace, self-worth, validation, or even material things.  God is ultimately our source of all these treasures.  We will strive, weep, and deprive ourselves of opportunities to live a full life if we put our hope in a person to fulfill our expectations.  Trust me, it won't happen.  There's only One who delivers everything our hearts crave.
"The LORD is my shepherd, I shall not be in want" (Psalm 23:1 NIV).
"Woe to them that go down to Egypt for help; and stay on horses, and trust in chariots, because they are many; and in horsemen, because they are very strong; but they look not unto the Holy One of Israel, neither seek the LORD!" (Isaiah 31:1 KJV).
When our sights get set on the arm of flesh, we will always be let down.  Man can only do so much, but God can do any and every thing.  It is not a man who will make our life fruitful, but rather our own yielding to God's call to fulfill our purpose through the use of our gifts and talents.  As we live in the moment, making the best of every occasion to lift the spirits of those around us, our world will change for the better.  We will become more joyful and productive individuals who now attract a different type of person into our inner circle.  It is of the utmost importance that we as women become complete, whole individuals as Christ completes the vacuum within us.  Only then will we attract whole men who can step up to the plate in their relationship to us.  Why?  Because we won't settle for anything less.
Well, Michelle, you say, I'm already stuck with a man who has just abdicated on me.  How do I get him to step up to the plate and just do what God would have him to do?  You know, the basics – like being a for-real husband and a father?  Not an absentee bill-payer.  I know some of you are thinking, hmm … him paying the bills?  Now, wouldn't that be refreshing!  Yeah, girl, how do I maintain my femininity when my man won't help me?  How do I keep my dress on while he's trying to squeeze me into wearing the pants in the family?  The answer is easier to say than it is to do.  Stop rescuing him.
B-b-bbut, Michelle!  If I don't pay the bills, the lights will get cut off!  If I don't do this or that, it won't get done!  I understand all of that but do you understand that until you create a void for him to fill, he will not rise to the occasion?  In some cases, your rescue attempts have circumvented lessons the Lord wanted to teach that man.  When Jacob wrestled with the angel of the Lord, he wrestled alone.  He had already sent his wives and children ahead of him.  Though they were a part of his life and their destiny was wrapped up in whatever happened to him, whether he went backward or forward on the journey was between him and God.  I could just see it now if the wives were still with Jacob when the wrestling match began.  They all would have been involved, trying to pull the stranger off of Jacob.  Stop, you're going to hurt him!  Well, sometimes a man needs to acquire a limp to find out what time it is.  Then he'll find that it is time to rise up and become the man God has called him to be.
"Husbands, love your wives, even as Christ also loved the church, and gave himself for it" (Ephesians 5:25 KJV).
"So ought men to love their wives as their own bodies.  He that loveth his wife loveth himself" (Ephesians 5:28 KJV).
"Likewise, ye husbands, dwell with them according to knowledge, giving honour unto the wife, as unto the weaker vessel, and as being heirs together of the grace of life; that your prayers be not hindered" (1 Peter 3:7 KJV).
Yes, God really did mean for that man to take good care of you.  But he'll only do that if you let him.  One of my male friends put me in check the other day.  We were walking along and I was telling him about this very book.  So he said to me, "Well then, if you're supposed to be so feminine, why are you lugging around those two heavy bags?  You didn't even ask me to carry them for you!"  I laughed and promptly handed them over.  To be perfectly honest, I wasn't even thinking about it.  I'm so used to carrying my own load that I simply forget.  But I got the hang of it really fast.  As we got ready to leave the building to go to his car, which was parked a short distance away, I looked outside and saw the snow.  Casting a glance his way as he relayed to me that the car wasn't far, I said, "Well, if you were truly doing your job, and I were truly being a feminine woman, you would go get the car and come back to pick me up."  He stopped short and said, "Oh, okay!  You wait right here; I'll be happy to do that!"  I chuckled to myself as he went his way and returned minutes later with a big grin on his face.  He was quite pleased with himself that he was being such a gentleman, and I made some quip like, "My hero," or something along those lines.  Needless to say, I've never had to ask him to go get the car again.  It's automatic.
Have something to say about this article? Leave your comment via Facebook below!
advertise with us
Example: "Gen 1:1" "John 3" "Moses" "trust"
Advanced Search
Listen to Your Favorite Pastors