The Power of One Thing: How to Intentionally Change Your Life
Randy Carlson, Author
Friday, October 09, 2009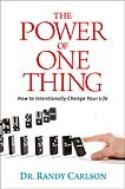 From Intention to Action
As you've seen, having good intentions is easy. Being intentional—making an effort to reach important goals—is difficult. But it's not impossible. Intentionality is critical; without it, you would never be motivated to change. But following through on your intentions is oft en manageable only when you focus on the next one thing you need to do to bring about change.
I tend to go off in numerous directions at once. I have lots of interests, lots of questions, lots of projects, lots of what-ifs. If you're at all like me, you can end up on lots of rabbit trails guided by your good intentions. And, as we know, the road to you-know-where is paved with good intentions. So what I'm about to show you comes from my own journey of moving beyond good intentions to life-changing results.
For me, getting focused happened when I was hit with one of those difficult, life-altering events. When my mother died in August 2005, eleven years after my dad, I suddenly realized I was an adult orphan. I was now part of the oldest generation in our family, and the shortness of life came into clear focus. Like the psalmist, my prayer became "Teach me to number my days" (see Psalm 90:12). I knew that if I was to turn my good intentions into reality, I needed to change the way I used my time and resources and start using the power of one thing to change my own life.
I wanted my life to count, and I became focused on my legacy. My parents had lived with integrity and commitment, and they ended strong. I wanted the same for myself. My parents had given up a big house in the suburbs and my dad's high-paying job in order to follow a dream . . . to build a ranch where disadvantaged children could get away from their dysfunctional situations for a while.
I realized that my tendency to overcommit, which sometimes led to procrastination, could keep me from living with a similar sense of purpose. I decided that the only way to finish life strong would be to break the rest of my life into bite-size commitments—one thing done each day in one or more essential areas of life. I realized that my legacy would be the accumulation of a series of "one things" lived out over an extended period of time—the rest of my life. I'm so committed to the power of one thing that I created a One Thing wristband that I wear every day as a reminder to do the one thing that day that will make the biggest difference in my life. Others have asked me about my wristband, and now thousands wear one just like it.
A Lesson from Tiger Woods
Every big accomplishment is preceded by lots of little, seemingly insignificant actions—resulting in the one big thing everyone sees. The other day, I watched as Tiger Woods won another PGA tournament on national television, but what the audience never saw was the hundreds of hours when Tiger, all alone, worked on perfecting his swing—one practice swing after another—far from the eyes of the public. While Woods is a dramatic example, we see the same principle in all areas of life. We cheer when our son or daughter wins a statewide musical competition, but we don't have fi lm footage of the hours the child spent practicing alone in his or her room. We congratulate a married couple on the accomplishment of a fifty-year marriage, but we weren't around to witness how they stuck together one day . . . one challenge . . . one disagreement . . . one illness at a time over those fifty years.
To illustrate how the power of one thing can lead to big accomplishments in your own life, try this exercise. Take a piece of paper and draw a horizontal line across the top. On the left side, write the year of your birth, and on the right side, write this year. In between, mark off the paper in five- or ten-year increments to make your time line. On your time line mark the major events, accomplishments, and changes next to the year they occurred. For example:
when you met Christ
when you went to college
when you got married
when you solved a major problem
when a child was born
when you made a decision to go in a new direction in your life
when you started a business
when you paid off your house
loss of a child
loss of a job
major health crisis
Have something to say about this article? Leave your comment via Facebook below!
advertise with us
Example: "Gen 1:1" "John 3" "Moses" "trust"
Advanced Search
Listen to Your Favorite Pastors