The Power of Words and the Wonder of God
Paul Tripp, Contributing Author
Monday, December 07, 2009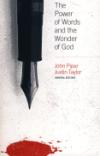 What is the provision we have been given? First, it's the gift of God's forgiveness. Because of the substitutionary work of Christ, I can stand before my God one more time and say, "I'm such a mess. God, I get it wrong so often. I claim allegiance to your kingdom but I slip back into that claustrophobic little kingdom of one. I again and again prize my agenda more than your glorious plan. Father, I cast myself before you once again. I say, 'Oh forgive me. Oh help me.'" Isn't it glorious that I can stand in all my weakness, in all my failure before a holy God, and be utterly unafraid because of what Jesus has done? I can run into his presence for his help one more time.
Second is the gift of empowerment. God knew that your need was so pervasive and expansive that he didn't just forgive you; he literally unzipped you and got inside you by his Spirit so that you have the power to do those things that he calls you to do. Consider this: Jesus is Immanuel not just because he came to earth; Jesus is Immanuel because he has made you the place where he dwells. God has dealt with your powerlessness, not just by giving you insightful commands and principles but by literally giving you himself. If you are God's child, he lives inside of you in power and glory, gracing you with what you need to obey his call.
But there is a third thing. God didn't just grant us forgiveness and enablement but ultimately deliverance as well. I don't know if you've thought about this, but you serve a dissatisfied Redeemer. He will not rest. He will not relent until every microbe of sin is eradicated from every cell of every heart of every one of his children. Some day we'll be invited to the one funeral that we all will want to attend: the funeral of sin. The promise of the gospel is that sin will die and we will be with Christ and will be like him in holiness forever and ever and ever.
By his grace, brothers and sisters, that glorious kingdom of transforming love is yours for the taking. Dear ones, the Father has chosen to grant you the kingdom. Why would you enter once again the claustrophobic confines of your little self-defined world?
Maybe you're thinking, "Paul, I get the principle, but how does it work?" Well, let me give you one final illustration. Imagine with me that you're a married man, and your wife is home with your three children. You head home, thinking that one of the things you love at the end of your day is that beautiful home-cooked meal. You can almost smell the smells as you're driving home. You recall that, as you left for work in the morning, you saw the beef roast shrink-wrapped in plastic on the counter, and you immediately had beefological visions. As you're driving home, you're thinking about that wonderful roast, but you arrive at home and come into the house, and the smells aren't so sweet. Your wife seems a little nervous and a little distant. As you sit down to eat, she puts a roast on the table in an act of embarrassment while mumbling an apology. The roast looks more like charcoal briquettes than beef. You look at her and say, "Do you know what I do for you? You know, I don't ask you for much. I'm a pretty tolerant guy. But the one thing that would be nice is if I could come home and have an edible meal." You point to the roast and say, "What do you expect me to do with that? You couldn't focus enough today to produce one decent meal for me? I don't get it. What did you do all day?"
That is the practical communication of the kingdom of self. What do you think is in the heart of that woman? Does she want to move toward you? Does she want to entrust herself to your care? Does she feel loved and encouraged? No, she doesn't. Remember Galatians 5:15: "If you bite and devour one another, watch out that you are not consumed by one another."
Let's wind the tape back to earlier in the day. You're smelling the beef in your mind as you drive home. But you come into the house, and the smells aren't very nice. Your wife, in an act of embarrassment, mumbles an apology as she puts the seared roast on the table.
Recently on Home Page - Column 1
Have something to say about this article? Leave your comment via Facebook below!
advertise with us
Example: "Gen 1:1" "John 3" "Moses" "trust"
Advanced Search
Listen to Your Favorite Pastors