The Power of Words and the Wonder of God
Paul Tripp, Contributing Author
Monday, December 07, 2009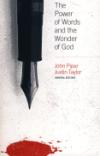 You grab her hand and say, "Dear, don't apologize. You have been such a sweet gift to me. You work so hard for this family. You love us dearly day after day. It is amazing to me that I live, with all my weakness and failure, with someone who faithfully loves me like you do. Hear me, dear: if all I have to deal with is a burnt roast, I'm an expansively blessed man. Don't apologize. I love you. It's okay." You have just read the loving words of a man whose heart is ruled by the kingdom of God.
What kingdom rules your words? Whose kingdom do you speak in service of—the claustrophobic kingdom of self or the big-sky country of the glorious, love-infused kingdom of God? The answer for most of us is probably both. Sometimes I get it right—sometimes I do find joy in the kingdom of God—and sometimes I get it very wrong. For the war between these two kingdoms that rages on the turf of my heart, I need the grace of the Lord Jesus Christ.
I have committed to pray three prayers each morning. The first one is a confession: "God, I'm a man in desperate need of help this morning." The second prayer is, "I pray in your grace that you would send your helpers my way." The third prayer is, "And I pray that you would give me the humility to receive the help that comes."
There is no escaping the message of Scripture: word problems are heart problems. There's an organic consistency between what is in my heart and what comes out of my mouth. The struggle of words is a struggle of kingdoms; a war between the kingdom of self and the kingdom of God. The kingdom that rules your heart will dictate your words. But there is grace—glorious, powerful, enabling, forgiving, and delivering grace—for this struggle. Remember, there is no more present or powerful argument for our daily moment-by-moment need of God's grace than the words that come out of our mouths. Each of us needs to be rescued by his grace. Each of us needs to be enflamed with love for his kingdom, with hearts filled with gratitude, so that we will speak as agents of his boundless transforming love. Pray for the rescue of his grace so that you may speak as he intended. That is a prayer you can be assured he will hear and answer.
The Power of Words and the Wonder of God
Copyright © 2009 by Leland Ryken
Published by Crossway Books
a publishing ministry of Good News Publishers
1300 Crescent Street
Wheaton, Illinois 60187
Recently on Home Page - Column 1
Have something to say about this article? Leave your comment via Facebook below!
advertise with us
Example: "Gen 1:1" "John 3" "Moses" "trust"
Advanced Search
Listen to Your Favorite Pastors