The Power of Words and the Wonder of God
Paul Tripp, Contributing Author
Monday, December 07, 2009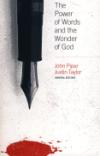 She said, "That's why I didn't turn." She added, "You know, Paul, why don't we do this—when you drive, you choose the direction, and when I drive, I'll choose the direction."
That seems logical, right? I couldn't leave that alone. I said to her, "Luella, if we were in a helicopter right now, flying over the city of Philadelphia, and we were to swoop down on this moment, you would know that my way is the right way."
Luella looked at me very seriously and said, "Paul Tripp, I don't think a helicopter is what you need right now."
I want. I want. I want. I want. I want. I want. I want. I tend to live in the claustrophobic confines of my own little self-defined world. I was not designed to live that way. I was created to live in the big-sky country of the glory of the kingdom of God with expansive borders beyond anything I could imagine or want for myself. My life was structured to be directed not so much by my desire for me but by the desires of Another for me. But I not only want to live in my little kingdom, I also want to co-opt the people around me into service of my kingdom.
I don't think I'm alone. Let me take you to an all-too-typical family scene. It's 10:30 at night and the children you put to bed at 9:00 are now fighting in their beds. You start down the hallway, feet heavy on the floorboards. You're probably not saying, "Thank you, Jesus, for this wonderful opportunity, part of the work of your kingdom. I so love redemption. I love this opportunity to be part of what you're doing." Instead you're probably saying, "They're dead!" And you burst into your children's room and say, "Do you know what my day's been like? Do you have any idea what I do? I don't ask for much—just children who are from earth. Why, I bought every shred of clothes you put on that back of yours. I bought every morsel of food you put in that big mouth of yours. I made your Christmases happy."
As you are ranting, do you think that your children are saying, "My, this is helpful . . . here is a person of distinct wisdom . . . I am so glad he came into my room . . . I think I'm seeing my heart"? No, your children gain little from the encounter and can't wait until you get out of their room.
Let's examine the emotion that is propelling you at the moment. You're not angry because your children have broken the laws of God's kingdom; if you were, that righteous anger would go in a very different direction. It would be the anger of grace, the anger of wisdom, the anger of instruction, and the anger of correction. No, you're angry because your children have broken the laws of your kingdom, and in your kingdom there shall be no parenting after 10:00. I am going to ask you to be honest about your anger and the ugly words that express it. How much of the anger that you have expressed in the situations and relationships of your daily life has had anything at all to do with the kingdom of God?
The Kingdom of Self and the Kingdom of God
Galatians 5 is very helpful here because it is a kingdom passage. The war between the two kingdoms—the kingdom of self and the kingdom of God—is being laid out in this little passage that applies the apostle Paul's discussion of the gospel to how we live:
You, my brothers, were called to be free. But do not use your freedom to indulge the sinful nature; rather, serve one another in love. The entire law is summed up in a single command: "Love your neighbor as yourself." If you keep on biting and devouring each other, watch out or you will be destroyed by each other. (vv. 13-15 NIV)
The passage ends with a warning. We must never say that harsh, ugly, unloving, condemning, ungracious, selfish, prideful communication is okay. It's not okay. God has invested words with power. Nor must we say, "Yes, I was yelling at my husband, but he knows I love him," or, "I know I was ugly with my children this morning, but they know I care for them." Paul doesn't allow us to back away from the harvest of our words. Rather, Paul says, we must watch out or we will be consumed and destroyed by one another. Notice the words Paul uses: he doesn't say the relationship will be destroyed; he says people will be destroyed. You can crush the faith of people. You can destroy their hope. You can damage their identity. You can leave a legacy of darkness in the heart of others because of the evil of the communication that marked the relationship. What you say always produces some kind of harvest. What is the lasting legacy of your words?
Recently on Home Page - Column 1
Have something to say about this article? Leave your comment via Facebook below!
advertise with us
Example: "Gen 1:1" "John 3" "Moses" "trust"
Advanced Search
Listen to Your Favorite Pastors