The Power of Words and the Wonder of God
Paul Tripp, Contributing Author
Monday, December 07, 2009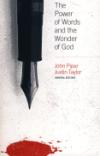 This is going to bother some of you, but I think it's exactly what John says in 1 John. True love is not best propelled by duty. John says, "We love because he first loved us" (4:19 NIV). True love is propelled by gratitude. Think about me sliding next to my wife, Luella, on the couch, pulling her close and saying, "You know, Luella, I'm persuaded it is my responsibility to love you, and so I'm going to love you because I think it's what I'm supposed to do. I want you to know that I will do my duty." Luella probably wouldn't walk away saying, "I'm loved! I'm loved!" True biblical, big-kingdom love is motivated, initiated, and propelled by gratitude.
That leads us to a potentially uncomfortable question, but I am persuaded that it is a question that we need to ask: What is this thing called love that is meant to drive my world of talk? I am persuaded that much of what we call love just isn't love. Let me use marriage as an example. Maybe what a wife- and husband-to-be think is real love may not actually be love. It might be a woman who, not realizing the selfishness of her sinful nature, is actually shopping for a man whom she hopes will be the final piece of the puzzle of the dream that she has for her life. She shops through seemingly endless dating relationships until she finally finds him. She's amazed and excited that she has found the "perfect" man. She doesn't have to bend the tabs to make him fit into the puzzle of her life. He already fits right into the space. Could it be that she doesn't actually love this man? Could it be that she's attracted to him not because she loves him but because she loves herself? Could it be that she's excited that this man seems as if he will be the deliverer of all her claustrophobic, little kingdom-of-one dreams?
The problem, however, is that her future husband has been doing the same thing. Yes, they are powerfully attracted to each other, and that attraction is powerfully emotional, but it isn't true biblical love. That attraction is self-love masquerading as love for the other person. It doesn't take a PhD to predict what is going to happen in that marriage. Maybe it will take a day. Maybe it will take six months. Maybe it will take six years. But at some point there is going to be a horrible, discouraging, and disorienting collision of dreams because, contrary to what they thought, that man and woman didn't actually love one another; they loved themselves, and they were excited that the other was going to deliver their dream. When that didn't happen, the attraction gave way to irritation and to wondering why they ever wanted to marry each other in the first place.
Sometimes it doesn't take very long. I had a couple call me the day after I married them. The call actually came at 6:30 the next morning. Although they were very discouraged, I thought it was wonderful. I thought they were humble, perceptive, and intelligent. They had come to the end of their kingdom purposes quickly. They were ahead of the game. Their despair was a good thing. We were able that morning to begin to get their marriage running on the tracks of real God-centered, other-focused love.
What Is Love Anyway?
I want to turn your attention to 1 John 4:7-12, a biblical treatise on love. What is this love that is to propel our words?
Beloved, let us love one another, for love is from God, and whoever loves has been born of God and knows God. Anyone who does not love does not know God, because God is love. In this the love of God was made manifest among us, that God sent his only Son into the world, so that we might live through him. In this is love, not that we have loved God but that he loved us and sent his Son to be the propitiation for our sins. Beloved, if God so loved us, we also ought to love one another. No one has ever seen God; if we love one another, God abides in us and his love is perfected in us.
You don't define love by a set of abstract concepts. Love is defined by an event, and that event is the cross of the Lord Jesus Christ. God calls us to cruciform love, that is, love that shapes itself to the cross of the Lord Jesus Christ. What is that love? I will give you a definition: love is willing self-sacrifice for the redemptive good of another that doesn't demand reciprocation or that the person being loved is deserving. That is the love that took Christ to the cross of his death for our redemption.
Recently on Home Page - Column 1
Have something to say about this article? Leave your comment via Facebook below!
advertise with us
Example: "Gen 1:1" "John 3" "Moses" "trust"
Advanced Search
Listen to Your Favorite Pastors