The Red Letters
Timothy J. Beals, Editor
Thursday, March 26, 2009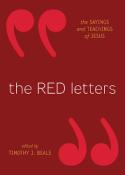 EDITOR'S NOTE: The following is an extract from The Red Letters: The Saying and Teachings of Jesus, edited by Timothy J. Beals (Crossway).
Foreword: The Word
Words are important. They can express reality and shape it. So when the writer of the fourth gospel account articulated the essential nature of the central figure in history, he said:
In the beginning was the Word, and the Word was with God, and the Word was God. He was in the beginning with God. All things were made through him, and without him was not any thing made that was made. In him was life, and the life was the light of men. The light shines in the darkness, and the darkness has not overcome it (John 1:1–5).
The apostle John could have used other metaphors, but none more clear, elegant, powerful, or true as "the Word." Jesus himself acknowledged the mysterious power of words in the account of the Roman soldier who shared with the Lord his concern for his servant's health. The centurion declared to Jesus, "Only say the word, and my servant will be healed" (Matthew 8:8). And Jesus "marveled" (8:10), literally was "amazed" or "astonished," at this claim—the only time in his earthly ministry he was "surprised" by the faith and understanding of one of his followers. Words make worlds. They have mysterious and undeniable power to share and shape our thinking.
But there is another thing about words: they have their limits. Because of the constraints of space and time, we are often forced to be selective, saying only the most important things (most of the time). That's what makes this volume unique. Here we focus on one thing: the words from the Word. By looking only at the "red letters," Jesus' spoken words, we see what is important to him.
The gospels are not comprehensive; John acknowledges that "there are also many other things that Jesus did. Were every one of them to be written, I suppose that the world itself could not contain the books that would be written" (21:25). So Jesus chose his words carefully. Sometimes he said nothing at all (Mark 14:61). When he spoke, his message was purposeful and poignant, measured and directed for an audience both present in history and extended through all time. Always he said what was true, and everywhere we hear him giving his listeners their proper place in his life.
The following presentation is meant to encourage readers to hear and understand Jesus' message in two ways:
through a narrated, chronological life of Christ in his own words—the sayings of Jesus (in Part 1)
through a thematic presentation of Jesus' message—the teachings of Jesus (in Part 2)
The origin of the red letters
Like chapter and verse numbers, center column references, and many other features we take for granted in our modern English Bibles, the red letters idea is a recent innovation. Its creator, Louis Klopsch (1852-1910), was born in Germany but moved to New York at age two and grew up there. By age twenty he had begun a career in journalism followed by a lifetime of service as both a printer and publisher. In 1890 he became the American editor of the British weekly, The Christian Herald, a newspaper that remained in print for over 130 years.
On June 19, 1899, while writing an editorial for the newspaper, Klopsch noticed these words from Luke 22:20: "This cup that is poured out for you is the new covenant in my blood." Impressed by the symbolism of blood, Klopsch asked a trusted publishing colleague if Christ's words could not be printed in red. His mentor replied, "It could do no harm and it most certainly could do much good."
Have something to say about this article? Leave your comment via Facebook below!
advertise with us
Example: "Gen 1:1" "John 3" "Moses" "trust"
Advanced Search
Listen to Your Favorite Pastors