The Red Letters
Timothy J. Beals, Editor
Thursday, March 26, 2009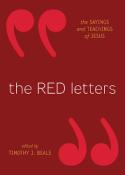 An initial red-letter edition of 60,000 King James Version New Testaments soon sold out. Praise streamed in—from the King of Sweden (by telegram) to President Theodore Roosevelt (through a dinner invitation that Louis Klopsch accepted). Throughout the twentieth century, red-letter editions became standard in nearly all traditional and modern translations. While other trends in Bible publishing have come and gone, the red-letter option appears to be a fixed feature, welcomed and demanded by many Bible readers the world over.
The approach to this edition
A word about my methods and criteria. In the pages that follow, I have compiled every instance of Jesus' recorded message in the gospels from the English Standard Version. In an effort to reduce repetition, however, where two or more gospel accounts refer to the same teaching or event, I have selected only one—usually the fullest and most detailed account.
In Part 1 you will find a complete account of Jesus' life using only his words, including every remark of his earthly ministry recorded across all four gospels. In this section I have focused on Jesus' half of the dialogue with his followers and opponents. For the order of events, I have followed J. Dwight Pentecost's outline in A Harmony of the Words and Works of Jesus Christ.
In Part 2 you will discover every teaching of our Lord touching on the crucial issues of his day and our own. In many instances the accounts you read here are also rendered in similar accounts in one or more gospels. Throughout the book, the commentary and apparatus has been kept to a minimum to allow the power and compassion of Jesus' sometimes comforting, sometimes unsettling message to remain the focus.
My primary incentive is to provide a unique volume that will enable us to become better apprentices of the Master by allowing us to hear directly from him about what matters most. So we can be transformed by the words and share the thrill of the apostle who wrote, "And the Word became flesh and dwelt among us, and we have seen his glory, glory as of the only Son from the Father, full of grace and truth" (John 1:14).
Our hope is that the red letters become the read letters.
Part 1: The Sayings
Beginning
(The boy Jesus in the temple)
Why were you looking for me? Did you not know that I must be in my Father's house?
Luke 2:49
(At the baptism of Jesus, many years later)
Let it be so now, for thus it is fitting for us to fulfill all righteousness.
Matthew 3:15
(Upon being tempted with food)
It is written, "Man shall not live by bread alone, but by every word that comes from the mouth of God."
Matthew 4:4
(Upon being tempted to jump)
Again it is written, "You shall not put the Lord your God to the test."
Matthew 4:7
(Upon being tempted with the world)
Be gone, Satan! For it is written, "You shall worship the Lord your God and him only shall you serve."
Matthew 4:10
Ministering
(Jesus begins his ministry) |
The time is fulfilled, and the kingdom of God is at hand; repent and believe in the gospel.
Mark 1:15
(In the synagogue)
"The Spirit of the Lord is upon me,
because he has anointed me
to proclaim good news to the poor.
He has sent me to proclaim liberty to the captives
and recovering of sight to the blind,
to set at liberty those who are oppressed,
to proclaim the year of the Lord's favor."
Luke 4:18–19
Today this Scripture has been fulfilled in your hearing.
Luke 4:21
Doubtless you will quote to me this proverb, "Physician, heal yourself." What we have heard you did at Capernaum, do here in your hometown as well.
Luke 4:23
Have something to say about this article? Leave your comment via Facebook below!
advertise with us
Example: "Gen 1:1" "John 3" "Moses" "trust"
Advanced Search
Listen to Your Favorite Pastors