The Rock Star Syndrome
Bob Hostetler, Author
Thursday, February 02, 2006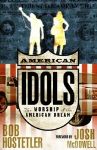 It happens no less among those of us who call ourselves Christ followers. We have a tendency to idolize famous authors, famous preachers, famous singers, not primarily because of what they say or how God is using them but because they're famous. And sometimes we rush from church to church or conference to conference following not God but the "anointing" we believe that person has.
Marva Dawn, in her book "Reaching Out Without Dumbing Down," writes:
[We are prone to] the idolatrous adulation of "famous" Christians. …. Instead of recognizing the value of their own daily experience of following Jesus, some believers falsely elevate big-name stars or let others do the ministry. As a result, performers of contemporary Christian music and hyped-up speakers and writers are elevated to celebrity status. ….

The danger of such "fame" became apparent to me several years ago when a teenager who had heard me speak at a large youth convention saw me in a store in Portland and begged for my autograph. I asked her why my signature was more valuable than hers. We are all equally significant members of the Body of Christ, are we not? We all have crucial parts to play in the church's ministry to the world. The church should be the last place where anyone is thought to be more important than anyone else.4
Many celebrities, Christian or otherwise, make great music, write riveting books, play great roles on the movie screen, or excel in one sport or another, entertaining, informing, or impressing us with some ability or characteristic. But so do many non-celebrities, who should be no less interesting to us.
And how do you explain our fascination with other celebrities — like Rupert Boneham (of "Survivor"), Paris Hilton, Monica Lewinsky, Kato Kaetelin, Joey Buttafuoco, Pia Zadora, Tiny Tim – oh, now I'm showing my age!
Why do we find celebrities so interesting, so captivating? Why is our culture so driven by celebrity? What's it all about? Does it even matter? And what does it hurt?
That's a lot of questions, so let's slow down a bit and let me suggest to you three possible reasons that we as a culture and as individuals are so quick to engage in celebrity worship.
A Longing for Community
Say what? You may well ask.
 
What could celebrity worship have to do with a longing for community? As Ricky Ricardo might say, "I can esplain."
According to the Bible, when God created human beings, he created us as communal creatures. As we discussed in chapter 4, God makes us individuals, but he doesn't intend for us to be individualists.
Way back in the first few pages of the Bible, The Lord God said, "It is not good for the man to be alone" (Gen. 2:18).
But these modern times, the way we live our lives these days, are not terribly conducive to real community: In most twenty-first-century communities, there's no town square, no communal watering hole, so to speak, no "Third Place," as sociologists are calling it now (that is, we all have homes, and workplaces, but for many of us there's no Third Place, no place where people routinely go just to chew the fat, let our hair down, and experience the joys of community).
Because most of us don't have such a place, and as our lives revolve more and more around work, more and more focused on a computer screen until our only interaction with other human beings some days is over the telephone, e-mail, instant messenger, or chat room, it eventually gets to the point where we feel like our most enduring, most faithful friendships are with people named Ross, Joey, Chandler, Rachel, Phoebe, and Monica!
But as our relationships become more disjointed and interaction with friends becomes less frequent, we come to thrive on news of this star or that celebrity as if we knew them! Down deep we'd much rather have real people to talk about, catch up on, and incorporate into our lives but in their absence we'll often settle for the false community of celebrity worship without even realizing what we're doing.
Have something to say about this article? Leave your comment via Facebook below!
advertise with us
Example: "Gen 1:1" "John 3" "Moses" "trust"
Advanced Search
Listen to Your Favorite Pastors