The Rock Star Syndrome
Bob Hostetler, Author
Thursday, February 02, 2006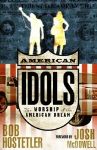 But in the end it's empty, unsatisfying, "utterly meaningless," as King Solomon said. It's a poor substitute for true community, the kind of community each of us was made for, the kind we hunger for until we experience it, the kind the Bible, God's Word, talks about when it says, about all who follow Christ:
You are no longer foreigners and aliens, but fellow citizens with God's people and members of God's household, built on the foundation of the apostles and prophets, with Christ Jesus himself as the chief cornerstone. In him the whole building is joined together and rises to become a holy temple in the Lord. And in him you too are being built together to become a dwelling in which God lives by his Spirit (Eph. 2:19–22 NIV).
The community we all long for is not found in celebrity worship but in uniting with others in the worship of God and loving and being loved in a family of faith.
So one possible reason we are so quick to engage in celebrity worship is a longing for community. Another reason may be a longing for significance.
A Longing for Significance
Maria Puente, writing in USA Today, asks:
Why …. would Chas Welch, 31, of Atlanta, frame a napkin from Prince's 1996 wedding, which is printed with the mysterious symbol the rock star was using as his name? "It's a connection to the person that no one else can have," Welch says. "That's what motivates collectors – they want that feeling that they're the most important person in the world."5
Think about how you would act if you walked into your local Baskin-Robbins tonight and got in line behind Tiger Woods. What would you do, really?
Whatever else you might do, you'd probably say to the first two dozen friends or acquaintances you ran into, "Guess who I just saw in Baskin-Robbins?"
And after you told them, they would say, "You met Tiger Woods? Wow!"
"Yep," you might say next, "he and I go way back."
What's that about? Why are we so anxious to tell others when we see or meet someone famous? It doesn't make us famous. It doesn't make us important or significant. It's not like Tiger Woods is going to go home and say to his friends, "Guess who I just saw in Baskin-Robbins?"
But, of course, when we tell our friends and family about our brush with fame, what happens?
They say, "Really?"
"What was it like?"
"What did you do?"
"Hey, Peggy, tell Phyllis who you saw in Baskin-Robbins."
And suddenly people are listening to us and paying attention to us and making over us. And that momentarily satisfies our longing for significance.
We all want to be important to somebody. We all want to be valuable in someone's eyes. We all want to be significant, some way, some day.
But after a day or two of telling the story, what happens?
"Did I mention who I saw in Baskin-Robbins?"
"Yeah, yeah, Tiger Woods, you told me."
It's old news. But it was fun while it lasted, right? Well, guess what?
You don't have to meet a celebrity to be significant.
You already are.
The Bible says that: "God sent his One and Only Son into the world so that [you] might live through him" (1 John 4:9).
That means, in God's eyes, you are worth the lifeblood of his only Son. That's the measure of your significance! And if you are a Christ follower, the Bible says that you are God's poem, his masterpiece (Eph. 2:10). It says that you are part of "a chosen race, a royal priesthood, a holy nation, a people for His possession" (1Pet. 2:9).
Have something to say about this article? Leave your comment via Facebook below!
advertise with us
Example: "Gen 1:1" "John 3" "Moses" "trust"
Advanced Search
Listen to Your Favorite Pastors