The Rock Star Syndrome
Bob Hostetler, Author
Thursday, February 02, 2006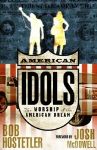 That is true significance, the kind that never fades, never diminishes, never changes. So it may be that we are so quick to engage in celebrity worship because we have a longing for community and a longing for significance. A third and final reason may be that we have a deep, abiding longing for glory.
A Longing for Glory
Sometimes I think our worship of celebrities is an intimation, a hint of our longing for glory, our yearning for immortality.
The Bible says: "God has … planted eternity in the human heart" (Eccl. 3:11 NLT).
And fame offers a counterfeit immortality, as expressed in the theme song of the eighties TV show "Fame": "Fame! I'm gonna live forever!" And even if we aren't celebrities, we want a connection with someone who's going to "live forever."
You know, if I can't be the sun, I'll settle for the moon. If I can't have glory of my own, I'll settle for reflected glory.
But going down in history is nothing like going on for eternity. And that's what the Bible says is available to us, to those of us who trust Christ. The Bible says that "Christ in you" – not some celebrity, some famous person, but Christ in you – is your "hope of glory" (Col. 1:27).
[For though] what we will be has not yet been made known … we know that when he appears, we shall be like him, for we shall see him as he is (1John 3:2 NIV).
This rock star syndrome, our fascination with celebrities, our tendency to worship the famous, this typically American idol, cannot deliver the goods.
Like the idols of old, celebrity worship "is trusting something that can give [us] no help at all. Yet [we] cannot bring [ourselves] to ask, 'Is this thing, this idol ... a lie?'" (Isaiah 44:20 NLT).
It is a lie.
It is an idol.
And it is a poor substitute, as all idols are, for the reality, the substance, the truth that is available to us in Jesus Christ.

1Tony Evans, "Who Is This King of Glory?" (Chicago:  Moody Press, 1999), introduction.
2Daniel Boorstin, "The Image:  A Guide to Pseudo-Events in America" (New York: Vintage, 1992), 57ff.
3Maria Puente, "The Sweet Smell of Excess," USA Today, 23 February 2005 (www.usatoday.com/life/eople/2005-02-03-celeb-auctions_x.htm?POE=LIFISVA).
4Marva Dawn, "Reaching Out Without Dumbing Down" (Grand Rapids, Mich.: Wm. B. Eerdmans Publishing Company, 1995), 50-51.
5Puente, "The Sweet Smell of Excess."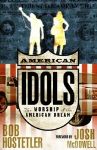 Excerpted from "American Idols: The Worship of the American Dream" by Bob Hostetler.  Copyright © 2006, Robert Hostetler.  ISBN 0-8054-4078-X.  Published by Broadman & Holman Publishers.  Used by permission.  Unauthorized duplication prohibited.
Bob Hostetler is a respected writer, pastor, and speaker whose works have received three Associated Press awards and two ECPA Gold Medallion honors.  A casual fan of "American Idol" who has called in his fair share of votes to the show, Hostetler lives in southwestern Ohio.
Have something to say about this article? Leave your comment via Facebook below!
advertise with us
Example: "Gen 1:1" "John 3" "Moses" "trust"
Advanced Search
Listen to Your Favorite Pastors