Things That Cannot Be Shaken
K. Scott Oliphint and Rod Mays, Authors
Tuesday, June 10, 2008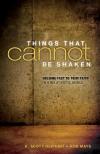 Peter's question gets to the heart of the matter as we think about the ground of authority and truth. Where else can we go but to the word of Christ himself? He alone has the words of eternal life. Is there any other standard, principle, or foundation that carries with it the authority of God himself? Is there any other standard, principle, or foundation that just is God himself, revealed in the flesh and thus giving to us "the words of eternal life"?
A Firm Foundation
In the hymn, "How Firm a Foundation," the author begins by attesting to the fact that the foundation that we have in the Word of God is both firm and complete:
How firm a foundation, ye saints of the Lord, is laid for your
faith in his excellent word!
What more can he say than to you he hath said, to you who
for refuge to Jesus have fled?
The foundation that we have in God's Holy Word is firm. It is secure. It is certain. It is the ground upon which anything else—any truth or any authority—must rest. And the question asked in this stanza is meant to be rhetorical: What more can he say? God has spoken through his own Son. No other revelation can compare; no other revelation is needed.
And so, we can now see why the Word of God cannot be broken. It has its roots in God speaking through his various agents in history. It has its climax in God speaking through his Son. It has its focus in God speaking in every word of Holy Scripture, which is, itself, God's own speech.
No wonder Newton, as he contemplated this great truth, asked, "On the Rock of Ages founded, what can shake thy sure repose?" No wonder this truth gave him confidence in those things "that cannot be shaken" (Heb. 12:28). What, indeed, can shake thy sure repose? The Word of God, and the salvation it offers, are founded on the Rock of Ages.
No current trends, no sophisticated arguments, no intense temptation has the power to break that Rock. If it is on Christ the solid rock we stand, then we are always and everywhere protected from such onslaughts in the shadow of his mighty wings.
With salvation's walls surrounded,
Thou may'st smile at all thy foes.
Things That Cannot Be Shaken
by K. Scott Oliphint and Rod Mays
Published by Crossway Books, a publishing ministry of Good News Publishers
1300 Crescent Street Wheaton, Illinois 60187
All rights reserved. No part of this publication may be reproduced, stored in a retrieval system or transmitted in any form by any means, electronic, mechanical, photocopy, recording or otherwise, without the prior permission of the publisher, except as provided for by USA copyright law.
Have something to say about this article? Leave your comment via Facebook below!
advertise with us
Example: "Gen 1:1" "John 3" "Moses" "trust"
Advanced Search
Listen to Your Favorite Pastors