Things That Cannot Be Shaken
K. Scott Oliphint and Rod Mays, Authors
Tuesday, June 10, 2008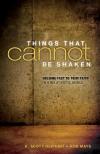 Throughout history, the people of God had lived out their relationship to God by way of relying on God's appointed messengers. In some instances, those messengers were angels (see Gen. 19:1-22; 28:12; Ps. 91:11). In others, the chosen messenger of the Lord was Moses (see the book of Exodus). In still others, Israel was to live out its relationship to God according to the appointed Levitical priesthood (see Deut. 17:9, 18; 18:1; 24:8; 27:9; Josh. 3:3; 8:33; 2 Chron. 5:5, 12; 23:18; Jer. 33:18, 21-26; Ezek. 43:19; 44:15; Heb. 7:11).
To rely on these messengers, as God's appointed messengers, was not sinful; indeed, a lack of trust in these messengers would have been tantamount to a lack of trust in God. God had appointed them for various tasks, at various times in history. As appointed by God to serve him, they were also meant to be trusted with the tasks God had given them.
Part of the problem that the author to the Hebrews had to address was the confusion that had set in since Jesus Christ had come. Those messengers that were at one time and place the chosen vehicles for God's purposes for his people had now been, once and for all time, replaced by Christ himself.
Yet some were still tempted to put their confidence in lesser things—things that were, in themselves, not sinful, but were nevertheless not meant to be the "focus or locus" of their confidence and trust. These Christians had mistaken the instrument through which God's truth and authority came with that truth and authority itself.
Article Page Break Here
And now we can begin to see that the problems immediately addressed in the book of Hebrews are problems that relate to our twenty-first-century predicaments. We should expect no less, since God has seen fit to give us, in his Word, principles that are applicable across the historical spectrum. We will look at these principles in the opening verses of this epistle:
Long ago, at many times and in many ways, God spoke to our fathers by the prophets, but in these last days he has spoken to us by his Son, whom he appointed the heir of all things, through whom also he created the world. He is the radiance of the glory of God and the exact imprint of his nature, and he upholds the universe by the word of his power. After making purification for sins, he sat down at the right hand of the Majesty on high, having become as much superior to angels as the name he has inherited is more excellent than theirs (Heb. 1:1-4).
Notice how abruptly the author begins this epistle. Compared to so many other epistles in Scripture, where Paul, for example, will first introduce himself, this epistle stands out as unique. It is so unique that many surmise that this letter was a sermon preached and then written to these Jewish Christians.
There were serious problems in this community of Christian Hebrews. The people were in danger of drifting away from the faith and of neglecting the salvation that had come to them (2:1-3); their disobedience was about to get the best of them, even as it had their forefathers in the wilderness (chapter 4); they were immature, not because they were recent converts (by this time, they should have been teachers), but because they had become dull of hearing (5:11-12). They still needed spiritual milk and were not prepared for solid food. So serious was their immaturity that some were in danger of irretrievably losing the salvation they had previously claimed to have (6:1-20). So, the author writes this word of encouragement (13:22) to bring about a repentance unto life.
It should strike us, therefore, that the author begins not with a personal introduction or even with a direct response to these serious problems, but with an acknowledgment of the rich and deep tradition of God's dealings with his people.
We should not pass over the first verse too quickly. The author is quick to point out that God indeed spoke to his people in various ways and at different times. The Hebrew Christians who received this epistle had not been wrong about their own tradition (at least not initially). They were right to see God's use of angels, and of Moses, and of the Levitical priests as important aspects of his relationship to them. The problem was not with the instruments of God's revelation through history. The problem was that some among them now wanted those instruments to become the ultimate source and ground of truth and authority for them. They had misplaced their notion of truth and of authority. Sound familiar?
Have something to say about this article? Leave your comment via Facebook below!
advertise with us
Example: "Gen 1:1" "John 3" "Moses" "trust"
Advanced Search
Listen to Your Favorite Pastors