Things That Cannot Be Shaken
K. Scott Oliphint and Rod Mays, Authors
Tuesday, June 10, 2008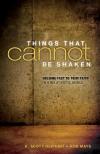 These Hebrew Christians would have understood that the glory of which the author spoke was the very glory of God—his shekinah presence with his people (see Ex. 24:15-18) that was now revealed in the Son.
Is it any wonder, then, that the revelation that has now been given in the Son is the final and completed revelation from God? If that revelation was not only "in the Son" but was, in fact, God himself revealing himself, is it even possible that there might be more, better, or clearer revelation to come in history? How could there be an expectation of "more" or "better" when the highest and exalted One himself has condescended to reveal himself to us? Wouldn't any other revelation pale in comparison to the revelation that we have in the very Son of God himself, especially since this Son is the radiance of Yahweh's glory and the exact imprint of his nature?
But notice that the author of Hebrews is not only concerned that we understand clearly who this Son is. That is crucial. But just as crucial is that we understand that the revelation that has come to us in the Son has not come simply and only in his person, but (and this is all-important for our purposes) God has spoken to us in this Son. The author is not concerned simply with Christ as personal revelation, but he is primarily concerned (in this passage) to emphasize that God has spoken to us in this One who is "true God of true God."
In other words, it is the Person of the Word of God as he gives to his church the written Word of God that is paramount in the author's mind. The point his readers need to see, as do we, is that God has spoken through this final and complete revelation of himself in his Son.
This Son, through whom God has finally and lastly spoken, is the one who, having made purification of sins, "sat down at the right hand of the Majesty on high." There is no more exalted view of the authority of God to a Hebrew mind than this. To sit at God's right hand is to have all the authority of God himself. It is to be God himself in his sovereign capacity to reign (Pss. 60:5; 63:8; Matt. 26:64; Acts 2:33-34; 7:55; Rom. 8:34; Eph. 1:20; Col. 3:1; Rev. 5:1, 7). So important is this to the author that he places the thought at strategic places in his letter (see Heb. 1:3, 13; 8:1; 10:12; 12:2). He wants his readers to understand that this Son who has spoken has been given all authority in heaven and on earth (Matt. 28:18).
The "truth" question and the "authority" question are all summed up in the Person. That much is clear. But for the church in "these last days," the issues of truth and authority are summed up in the written Word of the Son in Holy Scripture. The truth of God and the authority of God are summed up in what God has spoken in his Son.
Has God Said?
But questions linger—questions that relate specifically to our current predicament. If God has spoken, how can we know such a thing? Don't we need the foundation of our senses, or our mental faculties, or both, to know that God has spoken? And if our senses and mental faculties are subject to so many variables, how can they be trusted to give us anything but probability?
In Charles Dickens's classic tale, A Christmas Carol, Ebenezer Scrooge meets the spirit of his old business partner, Jacob Marley, for the first time, seven years after Marley's death. But Scrooge is initially skeptical:
"You don't believe in me," observed the Ghost. "I don't," said Scrooge.
"What evidence would you have of my reality, beyond that
of your senses?"
"I don't know," said Scrooge.
"Why do you doubt your senses?"
"Because," said Scrooge, "a little thing affects them. A slight
disorder of the stomach makes them cheats. You may be an
undigested bit of beef, a blot of mustard, a crumb of cheese, a
fragment of an underdone potato. There's more of gravy than
of grave about you, whatever you are!"
Have something to say about this article? Leave your comment via Facebook below!
advertise with us
Example: "Gen 1:1" "John 3" "Moses" "trust"
Advanced Search
Listen to Your Favorite Pastors