Total Church: A Radical Reshaping around Gospel and Community
Tim Chester and Steve Timmis, Authors
Thursday, October 02, 2008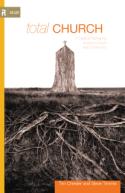 EDITOR'S NOTE: The following is an excerpt from Total Church: A Radical Reshaping around Gospel and Community by Tim Chester and Steve Timmis (Crossway).
Introduction
Alan is the leader of a small Baptist church. He moved to lead his suburban congregation five years ago after several years working in industry and three years studying in a theological college. He has seen a number of people join the church, but not as many as he had hoped. They have a thriving mothers-and-toddlers' group, a solid youth work program, and an accomplished music group. And yet Alan can't help feeling that the church is only scratching the surface. Truth be told, it feels as if ministry has become a production line: churning out sermons, putting on events, trying to generate another wave of enthusiasm for evangelism. If only there were a different way of doing church.
Bob was converted as a teenager in a lively Anglican church, then became a youth group leader. Now he no longer goes to church. It had just become a burden, a set of responsibilities. He was always being asked to do things. If he didn't show up at meetings, questions were asked and eyebrows raised. Conflict among church members was the last straw. "I don't need this," he told his wife the day he stopped going. He still reads his Bible, still prays, still tells unbelievers about Jesus if it comes up in conversation. "I'm just taking a break from church," he says. He can sense the disapproval when he runs into other Christians. He feels it himself. He knows
Christians should be part of a church. But he can't face going back. If only there were a different way of doing church.
Cathy became a Christian in her first year at university. It was great. She spent hours hanging out with her Christian friends, talking through their faith, praying together, sharing the gospel with other students. But two years after graduation she feels spiritually
flat. She goes to church each Sunday and attends a home group on Wednesday evenings. But she misses the intimacy of the relationships she had at university. She misses the discussions, the enthusiasm, and the late-night prayers. She laughs to herself at how immature they were sometimes. But she can't help wondering whether "grown-up" Christianity is any better. If only there were a different way of doing church.
Denzel was one of the founders of Elevate. Elevate grew out of a common desire to explore new ways of doing church. They were inspired by the alternative worship scene and some people within the emerging church movement. It started as a monthly gathering with images, incense, and meditations. From that came a weekly meeting in a pub. It was all very exciting at first. It still is. Denzel enjoys the energy that comes from doing something different. But he has some concerns. He suspects the Bible is not as central as it should be. Plus, although a number of other disaffected Christians have joined them, they don't seem to be impacting unbelievers. And then last week several members questioned whether adherents of other religions really need evangelizing. They talked about a safe place to ask questions, but Denzel felt uneasy. He thinks they're really on to something, and he certainly doesn't want to go back to a hymn sandwich and a sermon. But increasingly he worries about what is being sacrificed. If only there were a different way of doing church.
These people are fictional, but their stories are all based on real conversations and real experiences.
The Authors' Stories
Maybe you can relate to Steve's story. Steve was the minister of a church in a working-class community in northern England. It was his first "charge," and it was something of a baptism by fire! The church was welcoming and caring, small and intimate. Looking back, despite all the early difficulties, it is hard to imagine a better place for a young man to be nurtured in ministry. The people loved the Lord and showed it in their love for his word and his people. Over time, the church grew as lives were changed by grace.
Have something to say about this article? Leave your comment via Facebook below!
advertise with us
Example: "Gen 1:1" "John 3" "Moses" "trust"
Advanced Search
Listen to Your Favorite Pastors