Total Church: A Radical Reshaping around Gospel and Community
Tim Chester and Steve Timmis, Authors
Thursday, October 02, 2008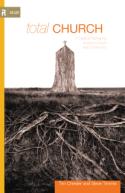 But for all that was good, Steve had a nagging sense of unease. The building was nearly full, but there were thousands outside. It was difficult to put his finger on it, but somehow so much of their life together as a church was inaccessible and irrelevant to those around. They loved each other, and the Bible was being taught, but he was growing increasingly aware of the almost impenetrable wall between the church and the world. It impacted traffic in both directions.
As Steve reflected, he saw two issues. First, for all the attempts at preaching God's word in a faithful and contemporary way, there was little opportunity for non-Christians to hear it. Second, although Steve was convinced that theirs was a believing community loving one other, there was little opportunity for non-Christians to be exposed to it. If only there were a different way of doing church.
Tim's story is different. He was brought up as a "pastor's kid." In his late teens his father was asking big questions about what it meant to be the church. Tim remembers long conversations as people shared their dreams about what church could be. At university he got the chance to make something of those dreams. He lived in a house with other Christians—eating together, worshipping together, offering hospitality, sharing lives. He has vivid memories of sitting around a large, battered, old table with the remnants of a meal and celebrating Communion together.
But life was very different after graduation when Tim and his wife, Helen, moved to north London. Tim still remembers the first time they were invited out for a meal. They assumed it would be that evening or maybe the next day. But a date three weeks away was suggested. It turned out to be their first experience of a "dinner party." It certainly wasn't sharing lives. If only there were a different way of doing church.
Key Principles
This book argues that two key principles should shape the way we "do church": gospel and community. Christians are called to a dual fidelity: fidelity to the core content of the gospel and fidelity to the primary context of a believing community. Whether we are thinking about evangelism, social involvement, pastoral care, apologetics, discipleship, or teaching, the content is consistently the Christian gospel, and the context is consistently the Christian community. What we do is always defined by the gospel, and the context is always our belonging in the church. Our identity as Christians is defined by the gospel and the community.
Being gospel-centered actually involves two things. First, it means being word-centered because the gospel is a word—the gospel is news, a message. Second, it means being mission-centered because the gospel is a word to be proclaimed—the gospel is good news, a missionary message.
So maybe we really have three principles. Christian practice must be (1) gospel-centered in the sense of being word-centered, (2) gospel-centered in the sense of being mission-centered, and (3) community-centered.
1. gospel-centered
1a. word-centered
1b. mission-centered
2. community-centered
You may think this sounds like a statement of the obvious. We hope you do. But let us make two points by way of introduction.
1. In practice, conservative evangelicals place a proper emphasis on the gospel or on the word. Meanwhile others, like those who belong to the so-called emerging church, emphasize the importance of community. The emerging church is a loose movement of people who are exploring new forms of church. Each group suspects the other is weak where it is strong. Conservatives worry that the emerging church is soft on truth, too influenced by postmodernism. The emerging church accuses traditional churches of being too institutional, too program-oriented, often loveless and sometimes harsh.
Have something to say about this article? Leave your comment via Facebook below!
advertise with us
Example: "Gen 1:1" "John 3" "Moses" "trust"
Advanced Search
Listen to Your Favorite Pastors