Total Church: A Radical Reshaping around Gospel and Community
Tim Chester and Steve Timmis, Authors
Thursday, October 02, 2008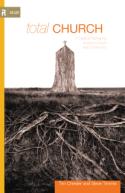 Is this "gospel plus" (requiring something—in this case, Christian community—in addition to the gospel, which thereby robs the gospel of its saving power)? The answer is, it depends how you tell the gospel story. It depends whether you see the gospel simply as the story of God saving individuals or as the story of God creating a new humanity.
Part 1, "Gospel and Community in Principle," outlines the biblical case for making gospel and community central principles for Christian life and mission. Part 2, "Gospel and Community in Practice," applies this double focus to various areas of church life.
Activists may be tempted to skip Part 1 and go straight to Part 2, but the applications in Part 2 are integrally linked to the convictions outlined in Part 1. We are trying to do more than assemble a collection of "good ideas" for church life. We have tried to explore the contemporary implications of the preoccupation with the gospel word and gospel community in the Bible story.
Who We Are
It might be helpful to include a brief word about the ministry in which we, Steve and Tim, are involved. The Crowded House is a network of missionary congregations, most of which meet in homes. We are trying to "do church" in a way that is welcoming for unchurched people. We place a big emphasis on sharing our lives with one another and welcoming unbelievers into the network of relationships that make up the church. It also means we grow by planting new congregations rather than acquiring bigger premises.
This book, however, is not an argument for household church. Not all our congregations meet in homes. It is our conviction that the principles we outline can and should be applied to all congregations. Nor is this book an account of The Crowded House. We do not think the way we do mission and church is the "right way" or the "only way." It is not an off-the-shelf model that people can fit to their context without alterations. Most of what we say in the book is what we aspire to, but sadly not yet what we do! It is a book of principles, vision, and hopes, not a description of practice.
Where we have included stories, we are seeking to encourage readers to respond imaginatively. We often find that people conceive principles simply in terms of their current practice. At the other extreme, some people see such a vast gulf between principles and current practice that they think the pursuit of principles is futile. This failure of imagination can prevent us from applying the Bible as we should. We hear it speak to us but either find it too far removed from current experience to feel it possible or squeeze it into our current experience. We need Spirit-inspired imagination to reconfigure church and mission around the gospel word and the gospel community.
Total Church: A Radical Reshaping around Gospel and Community
Copyright © Tim Chester and Steve Timmis
Published by Crossway Books, a publishing ministry of Good News Publishers
1300 Crescent Street Wheaton, Illinois 60187
All rights reserved. No part of this publication may be reproduced, stored in a retrieval system or transmitted in any form by any means, electronic, mechanical, photocopy, recording or otherwise, without the prior permission of the publisher, except as provided for by USA copyright law.
Have something to say about this article? Leave your comment via Facebook below!
advertise with us
Example: "Gen 1:1" "John 3" "Moses" "trust"
Advanced Search
Listen to Your Favorite Pastors