Tu Biet - Farewell Forever
Anh Vu Sawyer and Pam Proctor, Authors of Song of Saigon
Thursday, March 06, 2003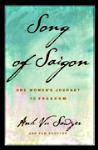 "Chi Huong, Chi Huong! Open the gate! It's me, open up!"
Because of a twenty-four-hour curfew, which had just been imposed a few weeks earlier, we regularly kept the gate of our family compound closed and locked. Now someone was banging loudly, clamoring to get in. For some reason, he was calling out Chi Huong, or "elder sister Huong," the familiar name of our nanny.
"Who could it be?" asked Mother. "Don't open the door!"
Still the gate rattled, and the male voice shouted again. "Chi Huong—the gate—please open it!"
"It sounds like Master Phong," our nanny said.
"That's impossible," retorted my mother. "Phong's in America."
At the very mention of my brother's name, my sister, brothers, and I rushed out the door to our house and up to the gate, where my very bedraggled brother Phong was standing outside, grasping the iron bars.
Nanny opened the gate, and he quickly slipped inside the compound, where we crowded around him in awe and excitement.
I barely recognized him. When he had left Vietnam nearly eight years before, he had been a skinny teenager with a sophisticated veneer of slicked back hair, tailored designer jackets, and luxurious Yves St. Laurent ties. Now he was a grown man, strikingly handsome, well fed and brimming with confidence. His hair was so long it nearly brushed his shoulders. And in his tight Levis and denim jacket, he looked every inch an American.
My mother took one look at him and almost fainted. "Why did you come home?" she asked with a look of fear in her eyes. "You were safe. You had life. Why are you here?"
"I had to come," he said. "I tried to write. I even tried to send a telegram. When I couldn't reach you, I hopped a plane to Guam and then got a lift here as a volunteer on a Red Cross helicopter."
The urgency in his eyes riveted our attention and rendered us speechless as he continued: "You must leave the country immediately," he said. "There is no hope left. The only chance you have is to get out with me, because now
I'm an American citizen."
For a long while, nobody said a word. We just looked at him, unable to speak, as the enormity of what was happening to us began to sink in. Then all of a sudden, we broke into smiles and started tittering with giddy laughter. 
"Yes, yes," we all agreed. We would go tomorrow to the American Embassy, as Phong had said. He was an American now, a citizen, and that meant everything would be all right. He was sure of it.
The next morning the house took on an air of celebration. It was as if someone had flicked a switch, turning the stark and scary darkness of our lives into an incredible burst of light. With Phong in our midst, we felt hopeful and safe, filled with expectation about our future life in America. Here was our savior, the bold rescuer—who had been born, appropriately, in the Year of the Tiger—who was going to bring us to the promised land.
For breakfast, our nanny spread out a feast: delicate crepes known as banh cuon, filled with savory meat; sticky rice with coconut milk; lemon sauces; tea; and the ubiquitous pho, the noodle soup that is a Vietnamese staple.
How Nanny had managed this repast, I'll never know. No shops open or stores were open where she could buy such goods. Our only sources for food were the black market and whatever we could scrounge from our neighbors by bartering from house to house. But Phong was Nanny's oldest charge—she had practically raised him herself—and for her young prince, nothing but the best would do.
I gorged myself on the banquet, paying more attention to my stomach than to the serious conversation between my parents and Phong at the other end of the table. But soon breakfast was over and before I knew what was happening, Phong hustled us out the door and managed to flag down an open-air minibus to take us to the embassy.
Have something to say about this article? Leave your comment via Facebook below!
advertise with us
Example: "Gen 1:1" "John 3" "Moses" "trust"
Advanced Search
Listen to Your Favorite Pastors