Twentysomething: Surviving and Thriving in the Real World
Margaret Feinberg, Author
Tuesday, May 11, 2004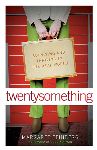 1. Options, Freedom and Flexibility
During your twenties, you have unlimited opportunities.  Many choices are available.  You can choose where you want to live, what you want to do, and in whom you want to invest time.  You can experiment.  I mean, come on – it just makes sense to try new things.  If you don't do it now, when will you?
"The absolute best part of being 24 and single is that my life is an open book!  I can go and do whatever I choose; the paths and roads are endless," says Kelly, one passionate twentysomething.  "I am free to go and do whatever I want right now and explore any career path I want.  It's such a great feeling to know I can live out all of my dreams right now without anyone or anything holding me back!"
Jill, a 27-year-old small animal veterinarian in Connecticut, says she feels that she still has time to switch careers if her current one doesn't work out.  "I feel as though I still have a lot living, learning, and growing to do … and still have plenty of pre-children time in my marriage," she says.
No matter what career path you might take, you still have the option of changing.  You can be an administrative assistant one day and work with disabled children the next.  Where the next mortgage payment is coming from doesn't really matter because you are sharing a one-bedroom apartment with three other people.  Just like job opportunities, roommates and housing change a lot in your twenties.  From living in a studio to sharing a five-bedroom house with a pool, no matter where you are sleeping, chances are it will change during the next year.  That's what being in your twenties is all about – exploring the options and finding out what is really important to you.
2. A Great Time for Travel and Exploration!
Living in Alaska, I see a lot of people with canes and wheelchairs pulling their oxygen supply tank along to enjoy the last frontier.  How much better would their memories be if they were able to say that they had hiked a glacier or kayaked with whales?  Instead, their memories consist of sitting on a bus and hearing about what other people have done in Alaska.  In your twenties, you can go backpacking in Europe for months on end.  Hopefully, you'll still be able to do that when you're fifty, but for right now you've got a lot less holding you down, and your knees will still hold up to a hike.
You also have the energy, strength, and wherewithal to travel on a shoestring budget.  You can explore new areas of the country and the world.  You can still crash on people's floors and couches and get by on salami and crackers if you want.  You can fly to Boston to see friends or spend the weekend at someone's lake house on a moment's notice.  You may like the idea of a four-star resort, but you're still willing to stay in a one- or two-star hotel if it means getting to see new sights or visit a new city.  You can take advantage of travel opportunities through work or a fellowship opportunity to study or work abroad.
Ellen, a 29-year-old graduate of the University of North Carolina, has traveled to Spain, Germany, and Switzerland and backpacked at Glacier National Park.  She has tried paragliding, metalwork, snowboarding, road biking, and rock climbing.  Reflecting, Ellen says, "I think one of the most important things to me in my twenties has been experimentation with life.  I have moved several times, traveled, loved and lost, read incredible life-shaping literature, tried new sports and arts, and, most important, made wonderful female friends.  I would recommend the same to anyone else, especially to women in their twenties.  Try it out.  Figure out your strengths and weaknesses.  Take time to determine what is the correct path for you instead of accepting the path that others lay out for you."
Have something to say about this article? Leave your comment via Facebook below!
advertise with us
Example: "Gen 1:1" "John 3" "Moses" "trust"
Advanced Search
Listen to Your Favorite Pastors