Twentysomething: Surviving and Thriving in the Real World
Margaret Feinberg, Author
Tuesday, May 11, 2004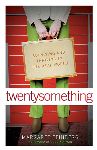 You can discover new cities, towns, people, and schools.  You can refine your skills and giftings as you embrace life.  You can also test new ideas.  You can come to terms with what you believe to be true and take time to study and have ready answers to questions about what you believe.  You've been raised with a certain set of values, and in your twenties, you can evaluate whether to make those beliefs your own or make adjustments.  You can grow into your own skin with an understanding of your personal beliefs and faith.
3. Time to Learn
Contrary to what some commencement speakers might tell you, the learning process doesn't end with graduation.  In fact, it's just getting started.  Through all the trials and tribulations, successes and failures, you are learning something new every day.  You are learning about yourself, the world around you, and how to thrive in it.  Depending on the choices you make, you can either slowly ease your way into the mire of adult responsibility or throw caution to the wind and jump in with both feet.
Your twenties are a great time to try to put your ideals into practice.  You can test them and find out which actually work and which really don't.  You can make life choices and develop life patterns.  You have more wisdom based on your experience than you did in school, but you haven't lost the desire to try new things for yourself.  You can find your passions and find yourself as you discover new things.
One of the best things about being in your twenties is that pretty much anyone will help you.  If you need a mentor, someone to encourage you or help you out, people are often more than willing to lend a listening ear, comforting shoulder, or helping hand.  As one twentysomething pointed out, "Now's the time to ask, before you become the competition."
Oh, yeah, and you can still be silly.  You can play paint ball or laser tag and build potato guns.  Even if you don't have a kid, you can still act like one.  Look for any opportunities to have some fun, learn something, and get out there and enjoy it.
4. Energy and Youth
The twentysomething years have a youthful vibrancy.  There are an excitement and hope that permeate every fiber of our being.  You can use that energy to accomplish personal goals, and if you can't change the world, at least you can change the world around you.
Shane, a 31-year-old living in Los Angeles, says that youth is to be treasured and enjoyed.  "For some reason, good or bad, it's still okay to screw up," she says.  "It's okay to try everything within God' eyes before you have to settle down or be responsible.  Yes, you should learn to invest, register your car on time, have an occasional blood test, watch your sodium intake – but don't forgo the opportunity to hold on to your immature youth.  Pull a fun prank on your friends, backpack Europe on $5 a day, meet everyone you can – just because."
Shane says one of the things she's most proud of is that she's never missed a trip or chance to travel or do something crazy.  She keeps a set of envelopes in her dresser drawer labeled for all the different trips she's planned:  one for summer graduate school in Vermont, another for the Nantucket Film Festival where she entered a screenplay, and another for a trip to Africa to document the AIDS crisis. 
"If I didn't have enough money at any given point, no fret, I'd find an odd job and get it," she says.  "Nothing stood in my way of going places and visiting all my friends every year.  Granted I never thought of saving for a condo or a 401(k) or getting a dental plan, but I sure never missed out on something cool."
5. New Relationships and Friendships
For some, those new relationships include marriage, while for others, they include developing strong friendships and a sense of community.  During your twenties, you can form friendships that will last a lifetime.
Have something to say about this article? Leave your comment via Facebook below!
advertise with us
Example: "Gen 1:1" "John 3" "Moses" "trust"
Advanced Search
Listen to Your Favorite Pastors