Twentysomething: Surviving and Thriving in the Real World
Margaret Feinberg, Author
Tuesday, May 11, 2004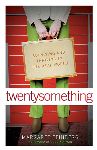 After moving back to Colorado, I became established with a group of amazing friends.  Not just any ordinary group of friends – we were The Tribe.  From all over the United States, with diverse backgrounds and some pretty amazing experiences in our pasts, we were joined together by our love for Christ and a desire for deeper relationships.  I started as an individual in a new city, and by the time I left, I was part of a group of brothers and sisters in Christ that goes beyond anything I ever would have imagined.  I have moved around a bit since those days, but that group of friends continues to hold me accountable and share both my joys and my tears.
The twenties are an amazing time to reach out to others and serve them.  Brian Habig, chaplain for Reformed University Fellowship at Vanderbilt University, notes that twentysomethings are afforded a tremendous amount of freedom by God.  "Harness it for the good of another," he says.  "If you don't know where to serve, just look at wherever God has place you.  Of all the places you could be, He put you there!  Begin looking around, and if you want to serve, you won't have to look long."
6.  The Start of Incredible Adventures
Life as an adult is just beginning, and you can do anything.  The doors are wide open, as far as choices and opportunities, and it feels adventurous.  There is expectancy, a sense that just about anything might be around the next corner.  You can wake up one day and do something entirely different with your life.  You have tremendous potential.  Your whole life is still ahead of you.
Shelley, a 23-year-old graduate of the University of Tennessee, says, "There is so much freedom.  People are still moving and traveling.  Most of my friends have not settled down yet.  There is always this feeling of expectancy.  Things could be entirely different next year.  This time last year, I had no idea my life would look like this.  It could be the same next year."
I know people who say high school was the best time in their lives.  Whether they were the star of the football team or the prettiest girl in school, it really doesn't matter to them what they do after graduation because they think that the good years of their lives are behind them.  I don't want to be so shortsighted.  I want my twenties, thirties, forties, and on up, even until age 90-plus, to be wonderful.  That means I have to make some good choices now.  I figure if I take a few less mogul runs at the ski area now, I can go skiing with my grandkids later.  My knees are good for only so many bumpy black diamond runs.  Of course, since I won't be skydiving at 80, I'll probably need to start planning that adventure now.
7.  A Wonderful Time to Grow in Your Relationship with God
This is one of the best parts of being in your twenties.  For those who are single or don't have children yet, this is an incredible age to make time to spend with God.  It's also a time to grow in your relationship with Him. 
Katie, a 23-year-old graduate of Mississippi State University, says, "This time has helped shake up my selfishness and made me really think about what I want the life I have been given to look like.  I know God is teaching me much and growing my relationship with Him through this."
Gillian, a 24-year-old living outside Decatur, Georgia, says she feels that God is showing her ways she can serve others that she hadn't thought of before.  "We have great fellowship, and I love hanging out with kid-less couples whom I can be real and honest with – it is neat to share with other couples who are going through the same things," she says.  "I feel God is showing me that my two main purposes in life are to love him and love others.  I had previously thought that spending time with others took away from my devotion to Christ, but I am beginning to realize that is His entire purpose for me – to love the body of Christ as He has loved me."
Have something to say about this article? Leave your comment via Facebook below!
advertise with us
Example: "Gen 1:1" "John 3" "Moses" "trust"
Advanced Search
Listen to Your Favorite Pastors