Twentysomething: Surviving and Thriving in the Real World
Margaret Feinberg, Author
Tuesday, May 11, 2004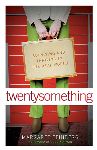 Gillian says she feels she can serve her friends through sharing feelings and being open and honest about struggles in marriage, work, and life.  "I have received the gift of open and honest friends who make me feel normal about my life, so I feel I can serve others by stripping away superficiality and engaging in real fellowship by revealing my sinfulness and need for Christ," she says.  'This is hard for me, but I know that by sharing burdens, the Christian life is so much more full and fellowship is much more real."
Like many twentysomethings, my own twenties have been and still are full of adventure, trials, rewards, relationships, broken hearts, tears, laughter, pain, questions, bliss, and love.  Though I make a lot of mistakes, I can look forward to seeing how God will carry me through.  His grace is so intriguing.  It's all the hardships, mistakes, wonders, and joys that have contributed to who I am today. 
As one twentysomething observed, "Being in your twenties is suspenseful – like watching a fireworks show on the Fourth of July.  The possibilities are endless."
A Final Word About the Twentysomething Years
You never know what's going to happen during your twenties. I think back about the motley crew that Jesus called to be His disciples.  Bible scholars estimate that many of them were in their teens and twenties when they were invited to follow Jesus.  Did those fishermen and young professionals every expect such an opportunity?  No way.  But God had some great things in store for them.  Just as He has great things in store for you and me.
A few years ago my uncle died, and my aunt needed an extra hand running their bed-and-breakfast for a few weeks during the summer.  So I flew to Sitka, Alaska, and spent several weeks serving her guests fresh scones and sharing information about a little town I barely knew myself.  I had an incredible time, and when my aunt invited me to return a second summer, I booked my plane ticket six months in advance.  While in Sitka, I was invited to sign books at a local church.  An extremely tall Norwegian man came by the signing table and purchased two copies.  Later, he invited me to spend time with his group of friends.  I accepted, and a friendship was born that grew into a long-lasting relationship.
Months later, we went for a hike.  We had walked a short way on the trail when I noticed a long-stemmed red rose along the path with a homemade card in a hand-stamped envelope.  I opened it and read the kind words of affirmation and love that were written inside.  We continued along the trail, and there was another long-stemmed red rose and handmade card.  The roses and cards continued for the entire two-mile hike until I had collected an enormous bouquet.  Then, we came to a park bench overlooking the water.  The bench held another dozen roses and a wooden bowl, which held a diamond ring.  Alongside the bowl was a bath towel and some fragrant oil.  Leif got down on one knee and proposed, and I said, "Yes."  He proceeded to wash my feet and express his desire to love, serve, and affirm me for the rest of my life.  After praying together, he took me out to an incredible five-star dinner at my favorite restaurant.  I used to think that God gave good things to those who waited, but now I know that He doesn't just give us good things – He gives the very best.  And I am more excited and joyful than words can express.
It's impossible to know the mind or heart of God and all the good things He has stored up for us.  Sometimes they include friendships.  Sometimes they include accountability.  Sometimes they include newfound love.  And sometimes they include wonderful surprises.
***
If you can't tell by now, there's a lot to look forward to and enjoy in the twentysomething years.  Sure, there may be a few issues with creditors and roommates that might try to get in the way and drag you down, but they really are small in the big scheme of things.  The problems will be only as big as you allow them to become, and the joys will be only as obvious as you choose to be aware of them.  The twentysomething years are about figuring out who you are and really defining your identity, purpose, gifts, and callings, and those aren't the kind of issues you can figure out on a weekend retreat or in a few months of living on a shoestring budget in Europe.  No, those kinds of questions take a lot longer, sometimes a decade or more to figure out.  And just for the record, the conclusions you draw now will probably change.  Buckle up and get ready for the ride of your life.  God is going to use everything that happens for His glory and so you can learn to rely on Him.  God loves you, so get out and enjoy your twentysomething years!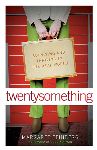 Reprinted by permission. "Twentysomething," Margaret Feinberg, 2004, W. Publishing, Nashville, Tennessee. All rights reserved."
Copying or using this material without written permission from the publisher is strictly prohibited and in direct violation of copyright law.
Margaret Feinberg is the twentysomething author of "God Whispers" and "Simple Acts of Faith," and is a contributing writer to "Enjoying God," "I Am Relevant," and "Deeper Walk Devotionals Vol. 1 & 2." She has written more than 500 articles for nationally recognized magazines, including Christianity Today, Relevant Magazine, Charisma, and New Man.  Margaret can be found kayaking, hiking and enjoying the outdoors of Alaska when she is not writing.
Have something to say about this article? Leave your comment via Facebook below!
advertise with us
Example: "Gen 1:1" "John 3" "Moses" "trust"
Advanced Search
Listen to Your Favorite Pastors