Unleashing the Power of Rubber Bands
Nancy Ortberg, Author
Tuesday, July 15, 2008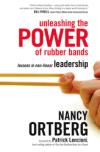 Heroes give flesh and bones to the vision, helping people see what's right in front of their eyes. And the best heroes make everyone else in the organization realize that "hero-hood" is not reserved for the select few, but that they, too, can become a hero. And maybe, just maybe, vision is a collection of heroes that point us in the right direction.
I have attended a lot of meetings where sales and marketing people are given awards. They get the verbal accolades and the nodding approvals, while all the while the data entry person who made the success possible—or at least had a lot to do with it— sits unnoticed in the corner. Leaders make sure no one is overlooked. That might sound like it's too big a job. Well, it is a big job, but it's not too big. It is imperative, and one of the primary ways of realizing vision. And it is the right thing to do, which is so much of what leadership is about.
Much of a vision's power lies in what it taps into. Done well, vision connects to that part of us that desperately wants to be a part of something deeper, something with meaning and significance. Vision releases ongoing energy in an individual and an organization that perpetuates and fuels itself. Vision lifts heads, stirs souls, and taps hearts. It creates and fosters and strengthens and stimulates. It engages passion, which is a profound source of motivation. Vision brings out the best where before, good enough was good enough.
Right now, we are working in a community that has been ravaged by violence and is struggling to overcome the legacy of destruction it's left behind. For years, this area had the highest murder rate per capita in the state, and for a while, in the country. It is difficult and sometimes discouraging work. Two steps forward, five steps back. Recently the community experienced shootings for thirty days in a row. Thirty days, every day, a shooting—some fatal, some not.
We're working with an agency that seeks to create avenues of non-violence in this community. They've started programs in the schools and the neighborhoods to target susceptible kids and intervene in this seemingly endless cycle. The agency does good work. They teach classes, they counsel, they offer music and art lessons, they host a weekly family night and try to "reprogram" the community mindset that sees violence as a way of life.
The young staff that so passionately leads this organization try to be relationally available to the people of the community twenty-four seven. What they do is so important, and in this area, they are the only ones doing it. They frequently gather as a group to remind themselves of their vision. They tell stories of the successes, and celebrate every step in the right direction. When discouragement seeps in, as it does on a regular basis, they return to their vision. They remind themselves of the truth and hope of the words. Their heroes are those who are living out the vision. When they get weary of doing good, it is not the strategy or logistics or budget that breathes life back in to their understandably worn-out souls. It is the vision.
Not the vision on a T-shirt, but the vision as it is lived out in the flesh and blood of those within their God-blessed reach.
Unleashing the Power of Rubber Bands
Copyright © 2008 by Nancy Ortberg
Published by Tyndale House Publishers
All rights reserved. No part of this publication may be reproduced, stored in a retrieval system or transmitted in any form by any means, electronic, mechanical, photocopy, recording or otherwise, without the prior permission of the publisher, except as provided for by USA copyright law.


Have something to say about this article? Leave your comment via Facebook below!
advertise with us
Example: "Gen 1:1" "John 3" "Moses" "trust"
Advanced Search
Listen to Your Favorite Pastors