Unpacking Forgiveness
Chris Braun, Author
Thursday, December 04, 2008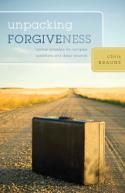 If we confess our sins, he is faithful and just to forgive us our sins and to cleanse us from all unrighteousness. (1 John 1:9)
Make no mistake—God does not forgive all. God's forgiveness is conditional. In Chapters 3–4 I will explain this and why it is eternally important that we each understand what we believe about whether or not forgiveness is conditional.
And forgiveness is not only conditional for God. It should be conditional in our relationships, too. For sure, we must have an attitude of grace or a willingness to forgive all people. We are commanded to love our enemies and to pray for those who persecute us (Matthew 5:43–48). But complete forgiveness can only take place when there is repentance. I will develop this point in Chapters 3–4.
Statement #5: Jesus said little about how people should resolve interpersonal conflict. FALSE.
Jesus said a great deal about conflict resolution and forgiveness. One whole chapter of the Gospels (Matthew 18) is about Jesus teaching the disciples when they were having a conflict. Chapters 6–10 of this book will be devoted to a study of that chapter. Be encouraged. Jesus had a lot to say about how we work through broken relationships.
Statement #6: A willingness to forgive is a test of whether or not a person will go to heaven when he or she dies. TRUE.
A willingness to forgive is closely connected to how we can be sure that we are going to heaven. Jesus was very clear about this. In the Sermon on the Mount, he said:
"For if you forgive others their trespasses, your heavenly Father will also forgive you, but if you do not forgive others their trespasses, neither will your Father forgive your trespasses." (Matthew 6:14–15)
I will devote all of Chapter 10 to considering the relationship between a willingness to forgive and assurance of salvation. For now, notice two things in these verses. First, Jesus is talking about forgiveness. The word forgive appears four times in two verses. Second, Jesus is putting on the table the threat of eternal judgment or hell. If you have any questions about whether or not God has forgiven you, be sure to read Chapter 3 carefully.
Statement #7: Good people get to the bottom of all their disagreements. FALSE.
If you have been around families or the local church for any length of time, you probably got this one right. There are times when good people simply cannot reach agreement about what went wrong, why someone was offended, who was right and who was wrong.
What are Christians to do when they cannot agree or find closure? Chapter 15 addresses what Christians should do when they come to an impasse.
Statement #8: There are times when it is wrong to forgive. TRUE.
Some argue that it is never wrong to forgive. But this cannot be the case. As I will explain in Chapter 3, God does not forgive the unrepentant. It would be wrong for him to do so because it would go against his own justice and holiness.
Others counter that while there may be times when God does not forgive, people must always forgive. They insist that whenever a wrong is committed, regardless of whether or not the offender is repentant, Christians should automatically forgive the offender. But this teaching is too simplistic. It encourages forgiveness so broadly that it diminishes the justice of God and compromises the integrity of true forgiveness. This is what Dennis Prager pointed out in a Wall Street Journal article:
The bodies of the three teen-age girls shot dead last December by a fellow student at Heath High School in West Paducah, Ky., were not yet cold before some of their schoolmates hung a sign announcing, "We forgive you, Mike!" They were referring to Michael Carneal, 14, the killer.
This immediate and automatic forgiveness is not surprising. Over the past generation, many Christians have adopted the idea that they should forgive everyone who commits evil against anyone, no matter how great and cruel and whether or not the evildoer repents.
Have something to say about this article? Leave your comment via Facebook below!
advertise with us
Example: "Gen 1:1" "John 3" "Moses" "trust"
Advanced Search
Listen to Your Favorite Pastors