Unpacking Forgiveness
Chris Braun, Author
Thursday, December 04, 2008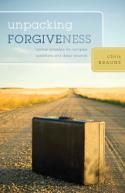 The number of examples is almost as large as the number of heinous crimes. Last August, for instance, the preacher at a Martha's Vineyard church service attended by the vacationing President Clinton announced that the duty of all Christians was to forgive Timothy McVeigh, the Oklahoma City bomber who murdered 168 Americans. "Can each of you look at a picture of Timothy McVeigh and forgive him?" the Rev. John Miller asked. "I have, and I invite you to do the same."
Though I am a Jew, I believe that a vibrant Christianity is essential if America's moral decline is to be reversed. And despite theological differences, Christianity and Judaism have served as the bedrock of American civilization. And I am appalled and frightened by this feel-good doctrine of automatic forgiveness.3 This book will interact with Prager's legitimate concern. It will present the beauty of God's grace and the necessity of forgiveness. But it will also teach the reader that forgiveness must take place in a way that is consistent with justice. We must move beyond a "feel-good doctrine of automatic forgiveness." Christians must always have a willingness to forgive or an attitude of forgiveness. But this does not mean that forgiveness always takes place.
Chapters 11–12 will focus entirely on this area. If you have been deeply hurt, and the other person is not sorry about it, read these chapters. If you wonder how Christians should respond to the Holocaust, 9/11, Columbine, Oklahoma City, Virginia Tech, or Rwanda, then read chapters 11–12.
* * * * * * * * * * * * *
Although we live in different states now, I recently called up my friend Deb, the lady who went through the loss of a son and a divorce. I wanted her permission to share her story, and I wanted to hear how she is doing. Her story is such a blessing. Deb remarried, and she and her husband have two children. They have a happy, Christ-centered home. I don't mean that Deb does not have any scars. But she is through the worst of it. I wish I could communicate how much joy it gives my heart to hear how God has blessed Deb.
Even as I share Deb's joy, I am sure of this: there is no way Deb could have gotten through the trials she faced on her own. Only God and his Word can unpack forgiveness. The questions were too complex for her to untangle on her own. The wounds were too deep.
I am praying for more stories like Deb's. I pray that the Triune God will be pleased to use this book to help many others unpack forgiveness, not because I have some super-keen insight but because God is pleased to work in and through the clear teaching of his Word. I understand that people will read this book who have been hurt deeply, those whose problems are terribly complicated. But be confident. There is no wound too deep for God to heal; there is no question too complex for him to answer.
Footnotes:
1. Lewis B. Smedes, Forgive and Forget: Healing the Hurts That We Don't Deserve (New York: Simon & Schuster, 1984), 111–123.
2. Randall O'Brien, Set Free by Forgiveness: The Way to Peace and Healing (Grand Rapids, MI: Baker, 2005). Reading the rest of this book, I assume the author's intent was to communicate that God is willing to forgive all. But the way this statement was made is potentially misleading.
3. Dennis Prager, "The Sin of Forgiveness," The Wall Street Journal, December 15, 1997.
Copyright © 2008 by Chris Brauns
Published by Crossway Books, a publishing ministry of Good News Publishers
1300 Crescent Street Wheaton, Illinois 60187
All rights reserved. No part of this publication may be reproduced, stored in a retrieval system or transmitted in any form by any means, electronic, mechanical, photocopy, recording or otherwise, without the prior permission of the publisher, except as provided for by USA copyright law.


Have something to say about this article? Leave your comment via Facebook below!
advertise with us
Example: "Gen 1:1" "John 3" "Moses" "trust"
Advanced Search
Listen to Your Favorite Pastors