Veiled Freedom: A Novel
Jeanette Windle, Author
Friday, June 05, 2009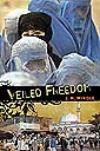 The school uniform was still blue and clean, a single white rose fallen from an outflung hand. The farmer cradled the limp form, his wails rising to join the communal lament. For his grandson, for so many others, the future this day had promised would never come.
***
Kabul International Airport
"Oh, excuse me. I am so sorry."
Steve Wilson barely avoided treading on heels as the file of deplaned passengers ground to a sudden halt. A glance down the line identified the obstruction. In pausing to look around, a female passenger had knocked a briefcase flying.
The young woman was tall enough—five foot seven by Steve's calculation—to look down on her victim and attractive enough that the balding, overweight Western businessman waved away her apology. Platinum blonde hair spilled in a fine, straight curtain across her face as she scrambled for the briefcase. A T-shirt and jeans did nothing to disguise the tautly muscled, if definitely female, physique of a Scandinavian Olympic skier. Though that accent was 100 percent American.
Steve had already noted the woman several rows ahead of him on the plane. With only a handful of female passengers, all discreetly draped in head shawl or full-body chador, her bright head had been hard to miss, face glued to the window as the Ariana Airlines 727 descended through rugged brown foothills into the arid mountain basin that was Kabul.
Now as she handed the briefcase back, Steve caught his first clear glimpse of her features. It was a transparently open face, hazel eyes wide and interested under startlingly dark lashes and eyebrows. The candid interplay of eagerness, apprehension, and dismay as she turned again to take in her surroundings roused in Steve nothing but irritation. Wipe that look off your face or Afghanistan will do it for you.
As the line moved forward, Steve stepped out of it to make his own survey. Next to a small, dingy terminal, only one runway was in service. Down the runway, a red and white-striped concrete barrier cordoned off hangars and prefabricated buildings housing ISAF, the NATO-led International Security Assistance Force. Dust gusted across the runway, filling Steve's nostrils, narrowing his gaze even behind wraparound sunglasses. He'd forgotten the choking, muddy taste of that dust.
The taste of Afghanistan.
Beyond the 727, a guard detail was loading passengers into a white and blue UN prop plane. Steve recognized the bear paw and rifle scope logo on their gear. Private security contractors. He'd done contracts for that company, and if he dug binoculars from his backpack, he'd likely spot guys he knew. But the wind was picking up, the other passengers disappearing inside the terminal, so instead Steve lengthened his stride.
He needn't have hurried. The immigration line was excruciatingly slow, the Afghan official scrutinizing each passport as though he'd never seen one before. The single baggage conveyor was broken, its handlers dumping suitcases onto the concrete floor with complete disregard for their contents. Air-conditioning was broken as well, the lighting dim enough Steve pushed sunglasses to his forehead.
But Steve had endured far worse. Besides, he was already on the company clock, so it wasn't his loss if he wasted half the morning in here. With a shrug, he peeled a trail mix bar from his pack and settled himself to wait.
"Worse than Nairobi, isn't it?"
Steve swung around on his heel. "Maybe. But it sure beats Sierra Leone."
The man offering a handshake sported the same safari-style clothing Steve was wearing. The resemblance ended there. Half a foot shorter and twice the circumference of Steve's own lean frame, he was bald, by razor rather than nature from the luxuriance of that graying red beard, a powerful build sagging to fat.
Though there was nothing soft in his grip. Nor in the small, shrewd eyes summing up Steve in turn. Cop's eyes. Steve could read their assessment. Caucasian male. Six foot one. Dark hair. Gray eyes. Tanned. Physically fit.
Have something to say about this article? Leave your comment via Facebook below!
advertise with us
Example: "Gen 1:1" "John 3" "Moses" "trust"
Advanced Search
Listen to Your Favorite Pastors